Ron DeSantis' Most Important Iowa Pal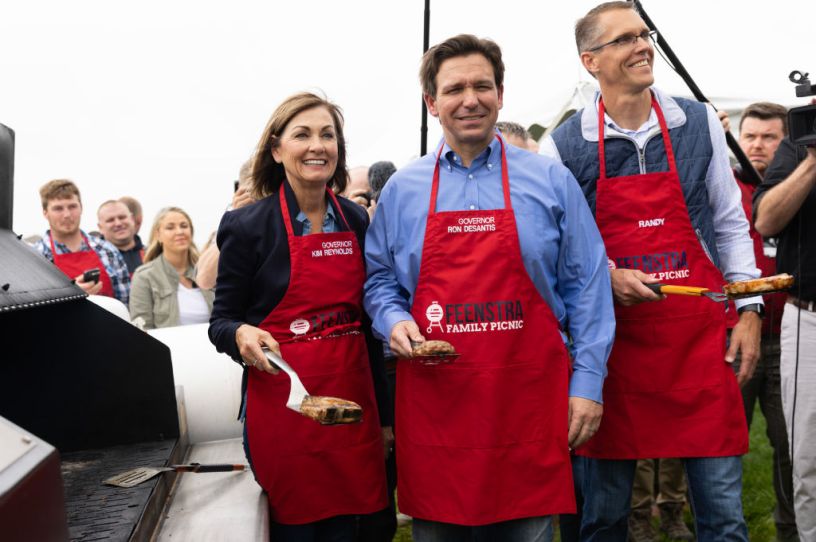 From left, Iowa Gov. Kim Reynolds, Florida Gov. Ron DeSantis and Rep. Randy Feenstra flip meat on the grill for a photo op during the annual Feenstra Family Picnic at the Dean Family Classic Car Museum in Sioux Center, Iowa, on Saturday, May 13, 2023. (Photo by Rebecca S. Gratz/Washington Post /Getty Images)
Happy Friday! If you thought former Chicago Mayor Lori Lightfoot's reelection loss marked the end of her public-facing career, think again! Per the Chicago Sun-Times, Lightfoot's "next chapter will take her to the Harvard T.H. Chan School of Public Health, where she will teach a course tentatively titled 'Health Policy and Leadership,' drawing heavily on her experiences steering Chicago through the COVID-19 pandemic and grappling with health equity issues."
Up to Speed
DeSantis Stocks Up on Reynolds Wrap
DES MOINES, Iowa—As Florida Gov. Ron DeSantis tries to catch frontrunner Donald Trump in the crucial 2024 Iowa caucuses, he has a not-so-secret weapon in the contest: Iowa Gov. Kim Reynolds.
Reynolds is committed to neutrality. As a growing field of Republicans vying for the nomination traverses Iowa stumping for votes, the governor regularly hosts almost any candidate who campaigns here. But Reynolds and DeSantis have a special camaraderie that's hard to miss when they're together. Reynolds likes to brag in introductory speeches for her colleague that Iowa is the Florida of the North, and DeSantis delights in gushing at every Hawkeye State stop that Florida is Iowa-Southeast.
This mutual admiration, plus a personal seal of approval from the well-liked Iowa governor pursuing a similar agenda in her state, could help DeSantis overtake Trump, the former president. It also could give him an advantage over other competitors positioned to make headway with likely GOP caucus-goers. In five events over 24 hours across Iowa this week, DeSantis wrapped himself in Reynolds' popularity—generating hearty applause everytime. It seemed just as much political strategy as professional courtesy.