The Democrats vs. New Hampshire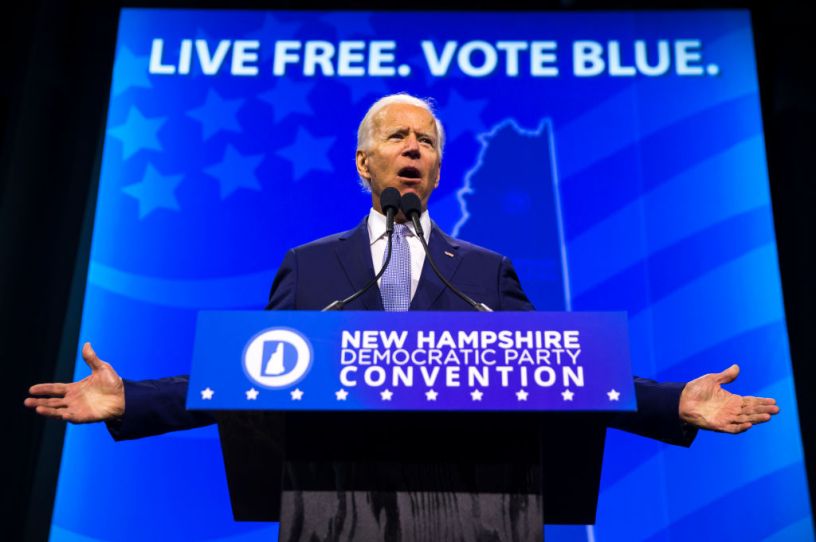 Joe Biden speaks during the 2019 New Hampshire Democratic Party State Convention in Manchester, New Hampshire. (Photo by Nic Antaya for The Boston Globe via Getty Images)
Happy Wednesday! A programming note before we begin: Our plan for this newsletter is to start (relatively!) slow, then speed up as the campaign season intensifies. Off the bat, that will mean two editions a week—so we'll see you in your inbox again next Monday. We'd appreciate it if you all tried to avoid breaking any important political news, like, this afternoon.
Up to Speed
Nikki Haley is running for president. The Post and Courier reported Tuesday that the former South Carolina governor and U.N. ambassador will officially launch her campaign February 15 at an event in Charleston. Haley will join Donald Trump on the early GOP candidate slate—less than two years after telling the Associated Press that she wouldn't run if he did.
Mitch Daniels is not running for Senate. The former Indiana governor and Purdue University president, who said publicly in recent weeks he was considering running for retiring Sen. Mike Braun's seat, told Politico Tuesday that "it's just not the job for me, not the town for me, and not the life I want to live at this point." Daniels' decision simplifies the path to the nomination for Rep. Jim Banks, who is being endorsed—as David M. Drucker reported after Daniels' announcement Tuesday—by the National Republican Senatorial Committee.
Republican Gov. Jim Justice of West Virginia told a local TV station Monday that he's leaning toward challenging Democratic Sen. Joe Manchin in 2024. "I've given it a lot of thought and I'm still very, very, very seriously considering it," said Justice, the 71-year-old former Democrat who became a Republican in 2017. "In fact, you know, I'm probably leaning that way." Manchin sealed his reputation as a legendary political survivor when he won reelection in 2018, two years after Donald Trump carried the state by 42 points, but Justice would be by far his most formidable challenger to date.
Rep. George Santos—the freshman New York Republican who has become an object of public fascination since it came to light that he had seemingly fabricated practically every detail of his political biography—has agreed to step back from House committee assignments, at least for the present.
Clashing Over New Hampshire
We don't mean to alarm you, but it's already February—which means the first 2024 presidential primaries are just a year away. And while we still don't know all the candidates who will be running in those primaries, the political fights surrounding them are already well underway.
Democratic officials convene tomorrow in Philadelphia for this weekend's Democratic National Committee Winter Meeting. A top order of business: officially approving the primary-calendar shakeup proposed last year by President Joe Biden.
The proposal, which was approved by the DNC's Rule and Bylaws Committee in December, would scramble the one-two punch of Iowa and New Hampshire that has kicked off the U.S. presidential season for both parties for half a century. Under the new calendar, South Carolina would be first out of the gate on February 3, 2024, followed by Nevada and perhaps New Hampshire (more on that below) on February 6, Georgia on February 13, and Michigan on February 27.