The Fundraising Do-or-Die Moment for 2024 Hopefuls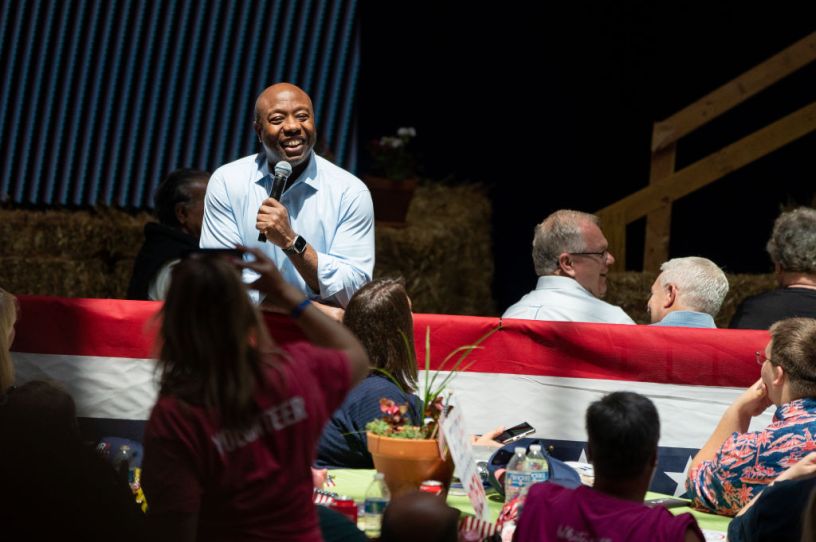 Sen. Tim Scott speaks during Sen. Joni Ernst's Annual Roast and Ride fundraiser. (Photo by Christopher Smith/for The Washington Post via Getty Images)
Happy Monday! A huge congratulations to The Dispatch's Andrew Egger, who welcomed his second daughter into the world last week! The rest of us will hold down the fort for a bit while Andrew's out on paternity leave.
Another programming note: Dispatch Politics will be off on Wednesday, July 5, but we'll be back in your inboxes on Friday. Happy Independence Day!
Up to Speed
The Supreme Court struck down President Joe Biden's student loan forgiveness plan in a 6-3 decision issued Friday. The court ruled Biden's approximately $400 billion proposal exceeded the authority of the U.S. Department of Education, with Chief Justice John Roberts writing for the majority that "precedent—old and new—requires that Congress speak clearly before a department secretary can unilaterally alter large sections of the American economy." The Biden administration announced on Friday an alternative plan to forgive student debt via the secretary of education's authority to "enforce, pay, compromise, waive, or release" student loans under the Higher Education Act.
In a 6-3 majority opinion authored by Associate Justice Neil Gorsuch on Friday, the Supreme Court held that a custom website designer could not be compelled to create wedding websites for same-sex couples. The majority held that the "First Amendment prohibits Colorado from forcing a website designer to create expressive designs speaking messages with which the designer disagrees."
Former President Donald Trump was in tiny Pickens, South Carolina, on Saturday, hosting a rally that local officials estimated attracted thousands, possibly tens of thousands, of attendees. South Carolina is a crucial early primary state.
Some of the other Republican presidential candidates are waiting until the actual holiday to spend time with voters. Former Vice President Mike Pence will be walking in a parade in Urbandale, Iowa, on July Fourth, with other contenders scheduled to celebrate Independence Day walking in parades in New Hampshire. Among them: Florida Gov. Ron DeSantis (Wolfeboro and Merrimack); Sen. Tim Scott of South Carolina (Merrimack): and North Dakota Gov. Doug Burgum (Amherst and Merrimack).
Crucial Second Quarter GOP Fundraising Reports on Tap
Unless you're a Republican running for president, this past Friday was nothing more than the beginning of a glorious long weekend to celebrate Independence Day, culminating, most likely, with Fourth of July fireworks. Enjoy it.
If you are a Republican running for president, Friday was much more: the conclusion of the second quarter of 2023, a crucial fundraising period that could make or break your 2024 campaign.