University of Alabama Slated to Host Third Republican Debate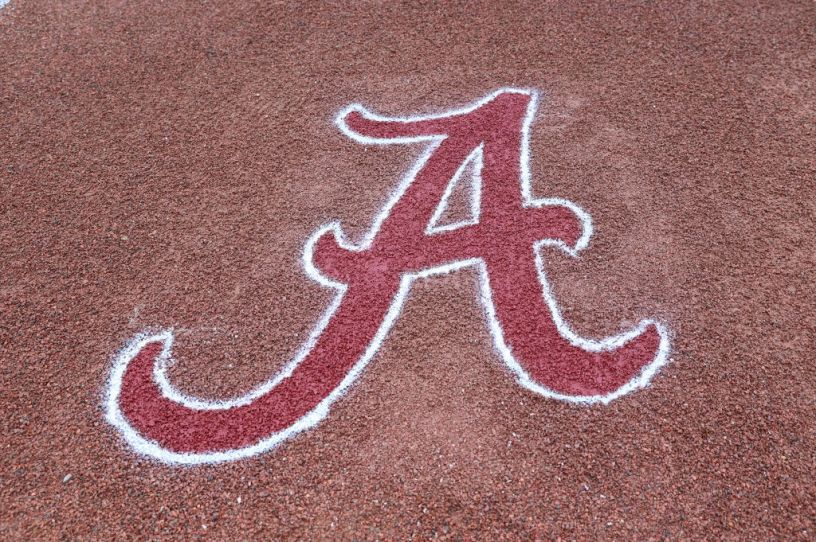 The University of Alabama logo drawn onto gravel during the 2023 SEC Baseball Tournament game on May 23, 2023, in Hoover, Alabama. (Photo by Michael Wade/Icon Sportswire via Getty Images)
Happy Wednesday! Turns out Eminem didn't like Republican presidential candidate Vivek Ramaswamy's Iowa State Fair rendition of the rapper's classic hit "Lose Yourself." The music licensing agency BMI has informed the Ramaswamy campaign of Eminem's request that the candidate stop playing his music on the campaign trail, the Daily Mail reports.
Up to Speed
Roll Tide? RNC Plans Alabama Debate
The Republican National Committee plans to host a third presidential primary debate at the University of Alabama campus in Tuscaloosa this fall, four GOP sources tell The Dispatch.
Our sources caution that details are still preliminary: The RNC is eyeing late October or early November but has not settled on a firm date. A media partner to televise the debate has not been selected yet, and no contracts have been signed. But Republicans familiar with RNC planning say the party is hopeful that holding the third debate in Alabama would entice Donald Trump to participate, as the former president is exceptionally popular in the Yellowhammer State.
Tentative event specs were confirmed by multiple Republican sources, including two RNC members. "We have heard that there will be [a debate] in Tuscaloosa," one says, although the second RNC member emphasizes preparations for an Alabama debate are "fluid due to candidates' schedules" and other factors. (In an interview on MSNBC's Morning Joe, former New Jersey Gov. Chris Christie referred to Tuscaloosa as the site of the third debate.)