The Art of Compulsion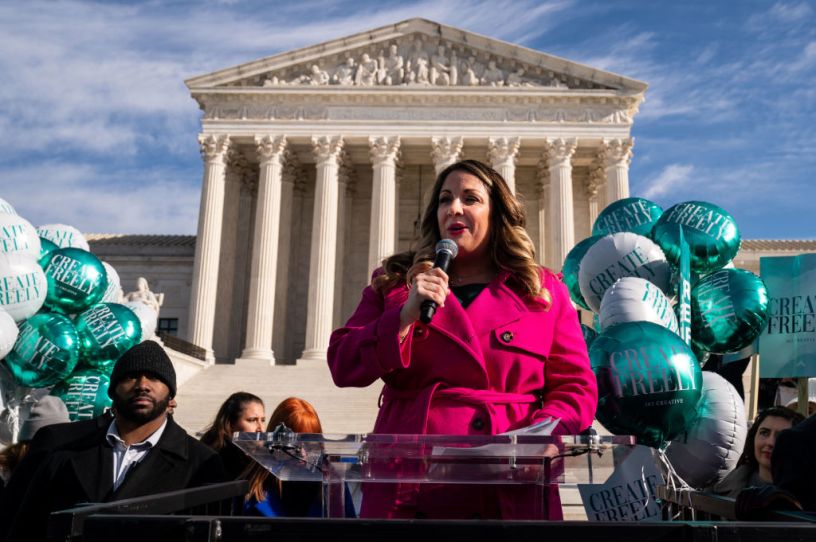 Lorie Smith, a Christian graphic artist and website designer in Colorado, speaks to supporters outside the Supreme Court. (Kent Nishimura/Los Angeles Times/Getty Images.)
Hey,
I'm not one of those fancy lawyers who works in an office and wears belts. So don't expect a lot of that highfalutin legal talk; I'm no ex parte animal. I won't even use semicolons because I leave it to judges to issue two consecutive sentences.
But I have been following the case of 303 Creative LLC v. Elenis, which was just argued at the Supreme Court. As I understand it, the case went to the Supreme Court in part because the 10th Circuit issued a spectacularly dumb ruling.
Here's the gist. 303 Creative is a website and graphic design company. The 10th Circuit held that Colorado's Anti-Discrimination Act gives the government the power to compel 303 Creative to provide wedding websites that "celebrate same-sex marriages" (if it opts to provide wedding websites that honor traditional, aka opposite sex, marriages). As my friend Ed Whelan writes, the majority "started off very soundly: it recognized that Lorie Smith, the owner of 303 Creative, is engaged in 'pure speech' when she creates wedding websites, that the websites 'express approval and celebration of the couple's marriage,' that the Colorado law compels Smith to engage in speech that she opposes, and that the law is therefore subject to strict scrutiny."
Get every newsletter and all of The Dispatch. Support quality, fact-based journalism.
Start Your Free Trial
ALREADY A PAID SUBSCRIBER? SIGN IN