Pondering the Prosecution of a President
Welcome once more to The Collision! A programming note: We'll be taking a break for Thanksgiving next week, and we'll be back to our regularly scheduled newsletter on November 30.
The Docket
Donald Trump's legal team filed a motion Wednesday for a mistrial in the ongoing civil case in New York regarding claims Trump and others committed fraud. According to NBC News, the motion focuses mostly on the gag order issued by Judge Arthur Engoron following Trump's public comments on social media criticizing Engoron's clerk. Trump has already had to pay two fines for violating the order, which he continues to do regularly on his social media accounts.
So many court dates, so little time. That was the crux of the argument in a motion Trump's lawyers filed Monday in the South Florida case involving the retainment of classified documents at Mar-a-Lago. The Trump attorneys requested Judge Aileen Cannon move a scheduled two-day hearing starting February 15 because it conflicts with another hearing scheduled for the same day in Trump's New York hush-money case. On Thursday, Cannon granted the request and moved the hearing, which is concerned with the procedure for how to handle classified material during the trial, up to February 12, the Messenger reports.
By the way, the conflicting hearing in New York is to consider a motion filed by Team Trump last month to dismiss the case brought by Manhattan District Attorney Alvin Bragg. Trump will likely attend that hearing in person. This week, Bragg's team responded with a 98-page brief explaining why this isn't the politically motivated prosecution Trump argues it is.
And if you can't tell, we're in the midst of dismissal motion season for Trump's trials, so get used to hearing about a lot of these motions now and in the first several weeks of the new year once judges start to consider them.
The impeachment inquiry into President Joe Biden continues to move forward in fits and starts. House Speaker Mike Johnson told Fox News this week that after receiving a briefing from the three committee chairs leading the inquiry that "the appropriate step is to place key witnesses under oath and question them under the penalty of perjury to fill gaps in the record." Johnson also reiterated his "full and unwavering support" for the three Republican chairmen: Rep. James Comer of Oversight, Rep. Jim Jordan of Judiciary, and Rep. Jason Smith of Ways and Means.
You'll notice Johnson has provided no definitive timeline for actually filing articles of impeachment. The Republican speaker said the House is moving "forward toward an inflection point" on impeachment—which is not much different from what he said two weeks ago: "I do believe that very soon we are coming to a point of decision on it."
An Unprecedented State of Affairs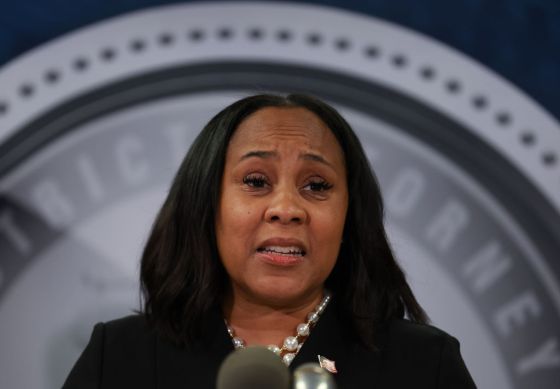 In an interview with the Washington Post this week, Fulton County District Attorney Fani Willis made a notable prediction about Donald Trump's upcoming trial on charges alleging that he and his co-defendants tried to overturn the 2020 election results in Georgia.
"I believe in that case there will be a trial. I believe the trial will take many months," Willis said Tuesday. "And I don't expect that we will conclude until the winter or the very early part of 2025."
If you've got your calendar handy, you'll note that the "very early part of 2025" coincides with the start of a new presidential term, and it's a distinct possibility Trump will be back in the White House. How can a criminal trial of a newly inaugurated president, uh, happen? How would this unprecedented situation unfold?
You're out of free articles
Create an account to unlock 1 more articles