Lawmakers Dig In Despite New Debt Ceiling Deadline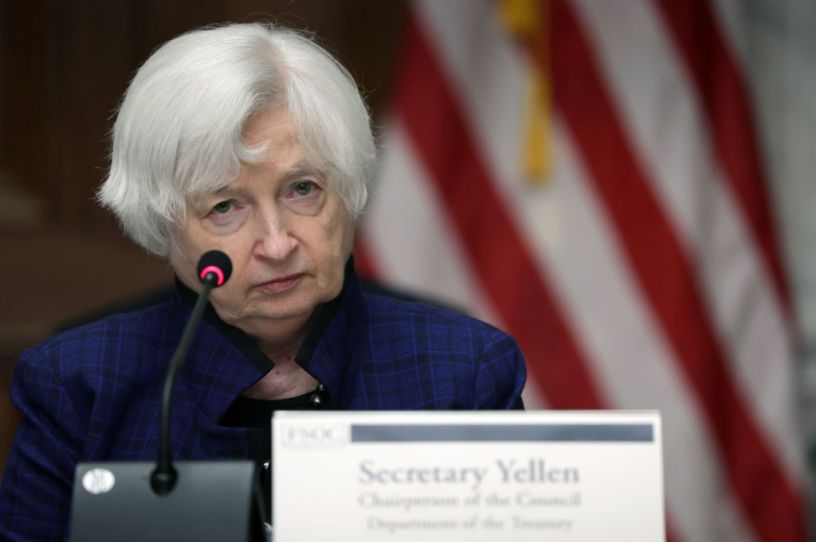 Treasury Secretary Janet Yellen listens during an open session of a Financial Stability Oversight Council meeting on April 21. (Photo by Alex Wong/Getty Images)
Lawmakers may have just a month to raise the debt ceiling, with an economic crisis looming if they don't. But after Treasury Secretary Janet Yellen warned of a potential June 1 deadline on Monday night, members of Congress and President Joe Biden didn't move any further from their entrenched negotiating stances, raising questions about how quickly they can reach a deal.
June 1 feels even sooner in congressional time: The House and Senate are in session only about a dozen days each over the month of May.
"It is imperative that Congress act as soon as possible to increase or suspend the debt limit in a way that provides longer-term certainty that the government will continue to make its payments," Yellen wrote in a letter to congressional leaders.
There isn't likely to be much movement on the issue this week. The House is out, with House Speaker Kevin McCarthy traveling abroad. The Senate, meanwhile, is poised to trade political barbs—and not much substantive negotiation—in a committee hearing Thursday about the Republican debt limit plan that passed the House last week.