Why We Should Be Worried About Russia and China Working So Closely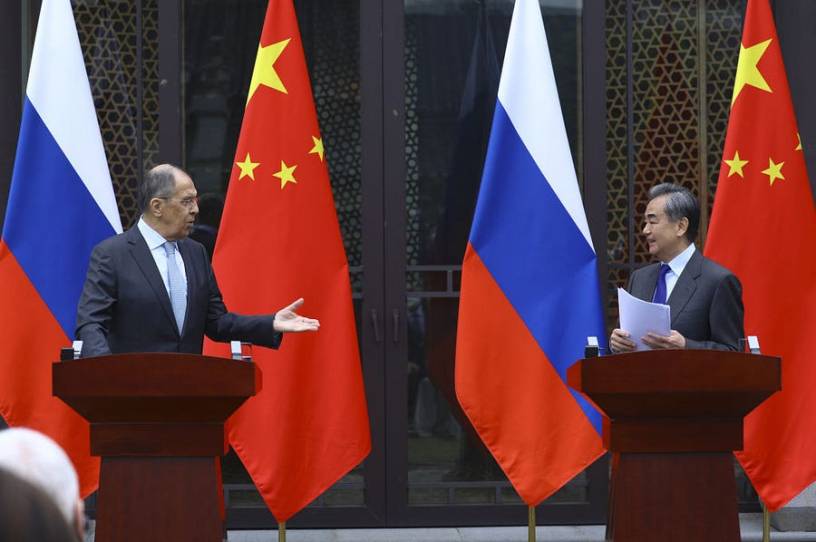 The March 18 meeting between the Biden administration and representatives from the Chinese Communist Party (CCP) has generated much attention and commentary. That is understandable given how much is at stake in the rivalry between the world's two largest economies. But far less attention has been paid to the CCP's behavior in the days following that dramatic sitdown—namely, how Moscow swiftly moved to bolster Beijing's diplomatic standing. 
Russian Foreign Minister Sergey Lavrov came to the CCP's defense in the days after the diplomatic dust-up in Alaska, in which Secretary of State Antony Blinken used his opening statement to express concerns about Xinjiang, Hong Kong, and Taiwan, as well as China's "economic coercion," and his counterpart responded with a long tirade about America. Lavrov did friendly interviews with Chinese media, trumpeting the upcoming 20th anniversary of the "Treaty on Good-Neighborliness and Friendly Cooperation" that the two nations entered into in 2001. 
On March 23, Lavrov met with Chinese Foreign Minister Wang Yi in the city of Guilin in southern China. The meeting was heralded across Chinese state-controlled websites. Afterward, Lavrov boasted that Russia and China continued "their close and fruitful cooperation in virtually all spheres on the international stage despite the coronavirus pandemic" and would "continue to strengthen our relations of comprehensive partnership and strategic interaction." He spoke of bolstering an alternative financial system, such that Beijing, Moscow, and other rogue actors could circumvent U.S. and European sanctions. Lavrov emphasized that they needed to be able to transact business "in national and international currencies other than the [U.S.] dollar," so they could avoid the bite of Western financial sanctions.
Much of Lavrov's remarks were focused on the value of international organizations. To that end, the Russian and Chinese foreign ministries released a joint statement "on certain aspects of global governance in modern conditions." In one sense, it is an example of diplomatic gaslighting. No one could take it seriously on its face. Much of the language in the document mirrors what you would expect to hear from a liberal-minded internationalist, or a progressive. For instance, the two autocratic countries call upon the international community "to contribute to the establishment of a fairer, more democratic and rational multipolar world order." 
Get every newsletter and all of The Dispatch. Support quality, fact-based journalism.
Start Your Free Trial
ALREADY A PAID SUBSCRIBER? SIGN IN