Put Trump Veterans in Political Timeout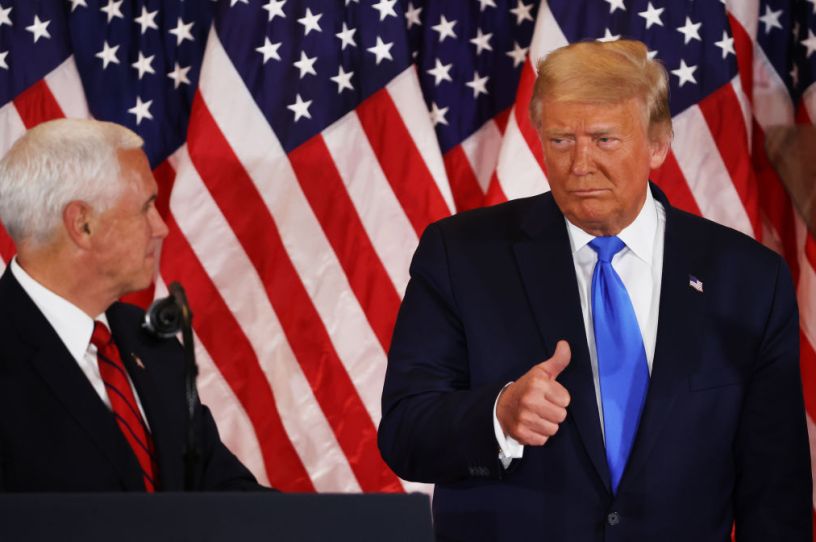 Donald Trump and Mike Pence on Election Night in the East Room of the White House. (Photo by Chip Somodevilla/Getty Images.)
Marcus Aurelius must have gone to a pretty rough gym. The emperor-philosopher wrote:
In the gymnastic exercises suppose that a man has torn thee with his nails, and by dashing against thy head has inflicted a wound. We neither show any signs of vexation, nor are we offended, nor do we suspect him afterwards as a treacherous fellow; and yet we are on our guard against him, not however as an enemy, nor yet with suspicion, but we quietly get out of his way. Something like this let thy behavior be in all the other parts of life: let us overlook many things in those who are like antagonists in the gymnasium. For it is in our power, as I said, to get out of the way, and to have no suspicion nor hatred.
With Nikki Haley getting set to announce her 2024 campaign for the Republican presidential nomination, a vexing question is raised—a question that we are going to have to think about a great deal: What do we do with these products of the Trump administration?
My own belief is that the senior figures in the Trump administration—Donald Trump himself, Mike Pence, the various Cabinet secretaries and agency chiefs, etc.—should never again hold any position of public trust—or, if not never again, at least not in the foreseeable future. By "position of public trust" I mean not only elected office but appointed positions in government, on the boards of universities and publicly traded corporations, etc. The same is true for those in Congress who voted against certifying the 2020 election results and those who were otherwise involved with the attempted coup d'etat of 2020-2021. Trumpworld lawyers such as John Eastman, Rudy Giuliani, and Cleta Mitchell should be disbarred. (I wasn't talking about you, Sarah!) This would, of course, much more than decimate an entire generation of Republican leaders—whether you think of that as a cost or a benefit will depend very strongly upon your point of view. If you have a 150-pound healthy person and a 600-pound tumor, there may be some question about who is removing whom.
Get every newsletter and all of The Dispatch. Support quality, fact-based journalism.
Start Your Free Trial
ALREADY A PAID SUBSCRIBER? SIGN IN