Can Emmanuel Macron Fix Lebanon?
The French president's humanitarian offerings come with strings attached, and his meeting with Hezbollah risks alienating the Lebanese people.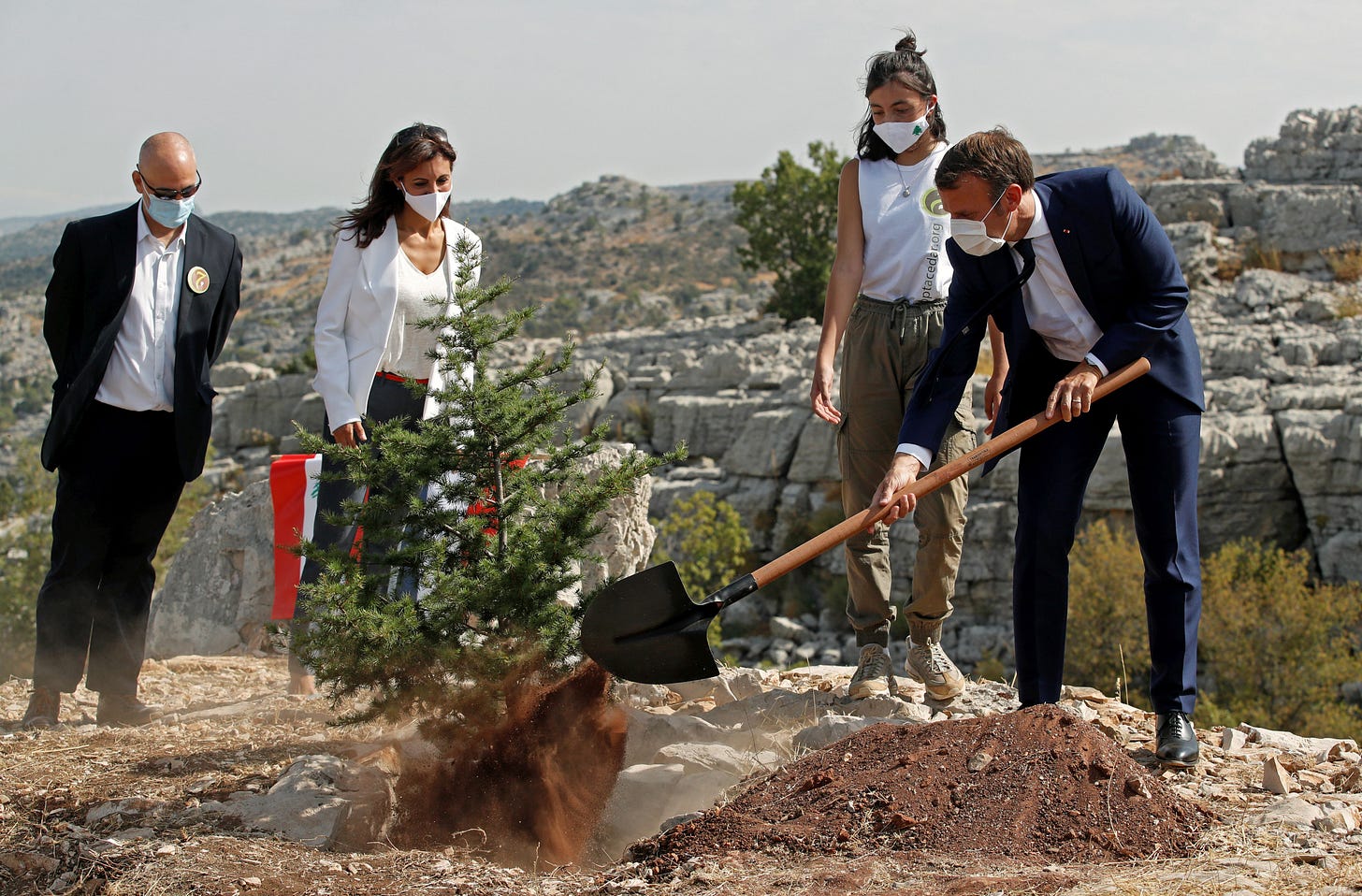 Lebanon celebrated a tense centenary on Tuesday, feigning unity as its citizenry and government alike continue to reel from the economic and political instability illuminated by last month's Beirut blast. While the footing of Lebanon's political elites remains tenuous, French President Emmanuel Macron stepped in to fill the vacuum created by the sectarian Lebanese government's lack of unifying leadership. Macron visited Beirut to plant a cedar tree—the emblem adorning the Lebanese flag—in a symbolic gesture denoting the revival of the Lebanese state. "When a country disintegrates, you never know when it will be reborn," he mused.
To push his policy of "rebirth," Macron offered Lebanon a choice: succumb to potentially irreversible financial ruin, or fully restructure the form and function of the current government. In exchange for implementing a series of French-directed reforms addressing issues as varied as COVID-19, corruption, elections, and energy, Macron agreed to lobby for desperately needed international aid to Lebanon at a donor conference to be held in Paris next month. "Lebanese people, you are like brothers to the French. I promised you: I will come back to Beirut to take stock of the emergency aide and help you build the conditions for reconstruction and stability," the French leader tweeted on Tuesday. Lebanon is currently seeking $20 billion in financial aid to recover its bankrupt economy and rebuild its capital after the devastating explosion that left tens of thousands of people homeless. But Lebanon's financial crisis predated the blast by more than two decades, and there are reasons to believe that Macron's efforts won't be universally well-received.
The country was experiencing a period of hyper-inflation in the early 1990s, and in an effort to draw international investment while also taming inflation, in 1997 the government took the rational but draconian step of pegging the Lebanese pound to the U.S. dollar. But between the conflict in neighboring Syria, Lebanon's failure to diversify its economy, and its severely mismanaged and corruption-riddled government, the Lebanese economy is in a downward spiral that makes daily life very difficult for its citizens. For example, according to a report by the United Nations, more than half of Lebanon now lives in poverty, and 23 percent live in extreme poverty. Protests are a regular occurrence in Beirut. And when stores of ammonium nitrate caught fire—resulting in the explosion that killed at least 190 people and wounded at least 6,000 more—renewed fury with the country's leadership spread rapidly. Prime Minister Hassan Diab resigned from his position in a flurry of scandal.
Lebanon appointed its new prime minister, diplomat Mustapha Adib, on Monday shortly before Macron's visit to Beirut. As a widely unknown former chief of staff and ambassador to Germany, Adib begins his tenure in a very difficult political environment. The new PM carries the weight of his status as one of Lebanon's despised political elites, but lacks the name recognition and public profile necessary to legitimize his position of authority in a fractured country that has proven difficult to govern for most of its existence. 
To Steven A. Cook, senior fellow for Middle East and North Africa studies at the Council on Foreign Relations, Adib feels like a band-aid solution."Adib is a creature of the political class. He is a French-educated lawyer who was an advisor to former PM Najib Mikati before becoming his chief of staff in 2011. He was rewarded with being appointed Lebanon's ambassador in Berlin," he told The Dispatch. "He most certainly does not represent the kind of change that the Lebanese are hoping for and they are rightly skeptical that he will undertake much needed reforms or that he will pave the way for change. Basically, the Lebanese political class is playing for time with Adib's appointment." 
And by meeting with the new prime minister, Macron has seemingly extended France's support. His apparent endorsement of Abid—and proposed series of reforms in Lebanon—have struck some onlookers as a bold and misguided overstep into Middle Eastern politics. 
From a historical lens, for example, Macron's strings-attached humanitarianism carries an unsettlingly familiar ring. Beginning September 1, 1920—the date celebrated in Tuesday's centenary—Lebanon fell under French control as a part of the League of Nations mandate system. France gave up its mandate in 1943 but didn't withdraw occupying troops from the country until after World War II in 1946. A century after the establishment of Greater Lebanon, France still holds greater leverage in the country than other Western powers. To some, the French jets flying overhead in the recently shell-shocked city of Beirut felt less like a gesture of support than a distasteful reminder of France's historical dominance in the region.
Perhaps more alarmingly, Macron also used his excursion to meet with Hezbollah—a militant group functioning as one of the many factions in Lebanon's sharply divided government. The Shiite Islamist organization ostensibly operates as a political party, but notably acts as a proxy for the Iranian mullahs by funding and comprising violent paramilitaries, carrying out cross-border attacks on its southern neighbor Israel, and siphoning off Lebanese money to sponsor its regional terrorism. 
As the most heavily armed and combat-trained political organization in Lebanon, Hezbollah retains significant influence in spite of current Western attitudes toward the group. The move by a European power to legitimize Hezbollah's destabilizing reign in Lebanon bodes poorly for the region and geopolitics. "Hezbollah is a cancer which has slowly eaten away at Lebanese sovereignty and the viability of Lebanon's national institutions," Michael Rubin, an American Enterprise Institute scholar specializing in the Middle East, told The Dispatch. "To give Hezbollah a seat at the table is to signal that terrorism works, the West is weak, and condemns Lebanon to Iranian suzerainty if not state-failure."
Macron, who rhetorically positioned himself in solidarity with Lebanese activists, also risks alienating himself from the reform movement that he vocally claims to support. Demonstrators have increasingly taken on Hezbollah for its role in the political and economic disintegration of their country, risking their lives to draw clear distinctions between themselves and members of the terrorist group. During one protest shortly after the explosion, for example, protesters hung a noose around a cardboard cutout of Hezbollah's Secretary General Hassan Nasrallah. By extending his hand to Hezbollah, Macron has—in effect—turned his back on those most inclined to support his set of political reforms.
"France appears poised to snatch defeat from the jaws of victory. Many Lebanese believe Hezbollah was responsible for the stockpiling of ammonium nitrite and Lebanese nationalists and liberals feel the time is right to push back on Hezbollah's behind-the-scenes control," said Rubin. "Frankly, it appears that France is much more concerned with getting contracts in Lebanon than in principle."
Despite France's historical sway in Lebanon, the substantive impact of Macron's renewed interest remains to be seen. Attempts to influence Middle Eastern politics have always been fraught with error, and Lebanon's multifactional government renders it even more difficult to navigate by outsiders. "If he is not careful, France will get sucked into a Lebanese power struggle that no doubt Macron doesn't understand," warned Cook.
Photograph by Gonzalo Fuentes/AFP/Getty Images.