Mayor Pete Is Having a Moment
Will Buttigieg put the nail in Joe Biden's political coffin on Tuesday?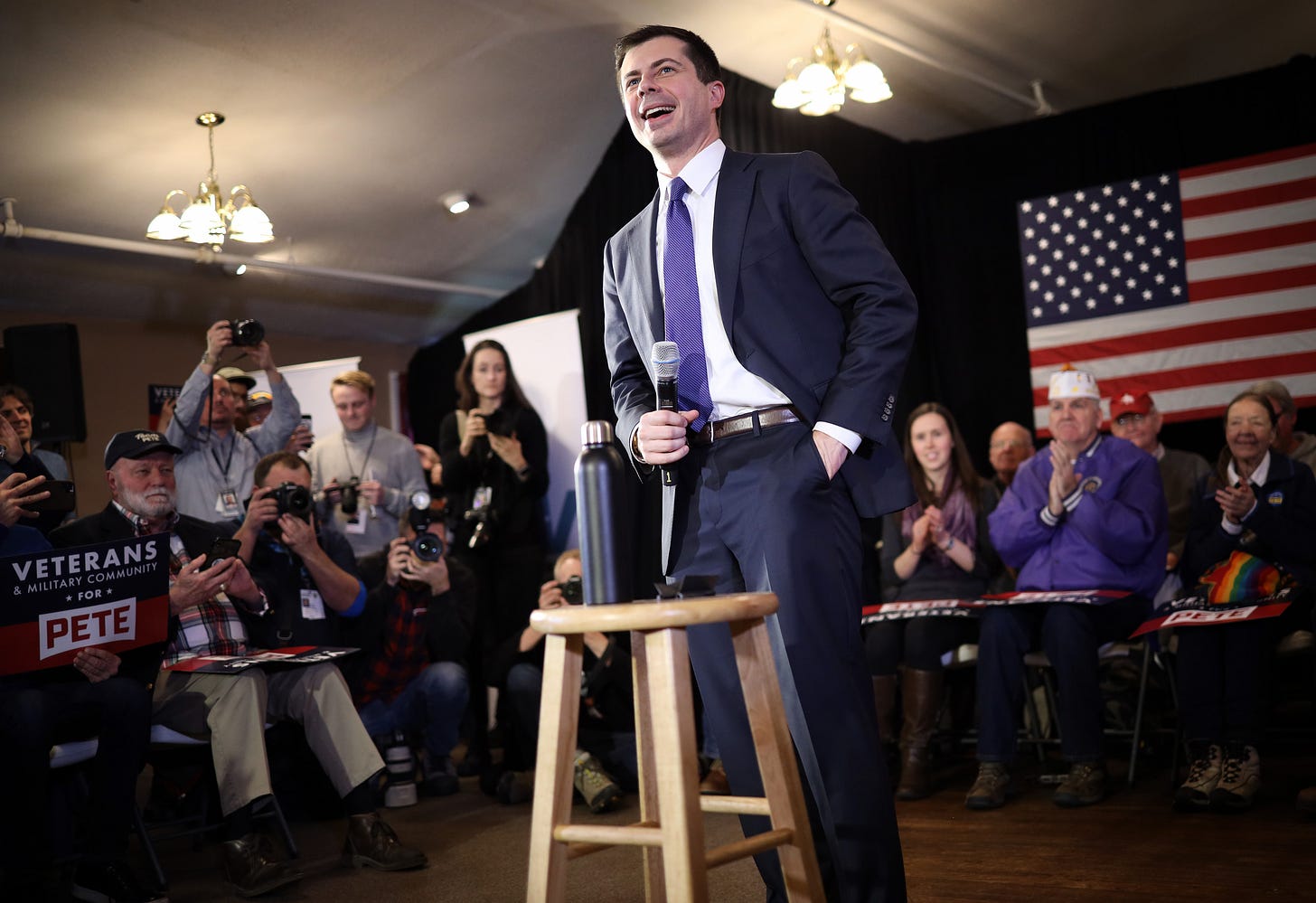 DERRY, New Hampshire—The hottest ticket in southeastern New Hampshire on Thursday was the Merrimack American Legion—and that's saying something: The late-'90s rock band, Fastball, was playing nearby at the Granite State Music Hall in Laconia.
But at 2:15 p.m.—a full 45 minutes before former South Bend mayor and ostensible Iowa caucuses winner Pete Buttigieg was slated to speak—dozens of voters and reporters alike were lined up outside the veterans' organization, pleading with campaign staff to let them in. No dice. It was a weekday, but a few inches of snow had (uncharacteristically for New Hampshire) shut down some schools and workplaces, and the intimate building on Baboosic Lake Rd. was at capacity.
"We thought perhaps today might be easier to get into based on the weather," Amy Cadugan, a Merrimack voter, told The Dispatch. "But obviously not!"
She had brought her high school daughter with her, hoping to cram in some "real world learning," but the fates did not align. "I just thought it was important to come out, for her to be a part of the political process."
Buttigieg briefly addressed the disappointed crowd before a black SUV whisked him around to an alternate entrance. "I'm so sorry, it sounds like we have more than filled up and won't be able to fit everybody into the space," the candidate lamented, before launching into a 30-second pitch for his campaign. "We are taking no vote for granted. Obviously we feel a lot of momentum coming here, but I know how New Hampshire is never told what to do. Folks here think for themselves, and I'll be doing everything that I can to earn every bit of support."
Mayor Pete's comments once inside the American Legion focused on military and veterans' issues. "Every one has given so much, and raised their right hand and made a promise that amounts to a blank check to the people of the United States of America," Buttigieg said of the country's service members, pacing around in a navy suit and royal blue tie. "So when we talk about taking care of veterans, we are not talking about doing anybody a favor. We are talking about America's way of keeping its promise that is made in return, and that is to look after you for the rest of your life."
A topic that did not come up at the American Legion on Thursday afternoon? Joe Biden. After Biden placed a distant fourth in Monday's disaster of an Iowa caucus, the former vice president's campaign decided to do something he's mostly avoided thus far: go on the offensive. The polls might be forcing his hand.
The Monmouth poll out Thursday shows Biden in third with 17 percent, trailing Sanders (27 percent) and Buttigieg (22 percent). A WBZ/Boston Globe/Suffolk University poll that came out late Thursday is worse for Biden: Buttigieg (23 percent) is in a virtual tie with Sanders (24 percent), and Biden (11 percent) is fourth behind Warren (13 percent).
"Mayor Pete likes to attack me," Biden had said at an event in Somersworth, New Hampshire on Wednesday. "He calls me part of the old, failed Washington. Well really? Was it a failure that I went to Congress to get Obamacare passed into law? Was it a failure when I got passed the implementation of the Recovery Act that prevented an economic collapse, another Great Depression?"
Biden continued ticking off accomplishments: the Iran deal, the Paris Climate Accords, the Violence Against Women Act, the chemical weapons treaty, the Brady Bill. "I have great respect for Mayor Pete, and his service to this nation," he said, a pair of teleprompters in front of him. "But I do believe it's a risk—to be just straight up with you—for this party to nominate someone who's never held a [sic] office higher than mayor of a town of 100,000 people in Indiana."
Buttigieg responded in an interview on MSNBC. "As to the achievements of the Obama administration, I have enormous regard for those achievements. … But I think the bulk of the credit for the achievements of the Obama administration belong with President Obama."
The small-town mayor—half Biden's age—twisted the knife Thursday morning on The View. "Well if that argument is about electability, and the ability to win, we just had the first election of the 2020 process. … I think that's my answer."
And if on-the-ground energy accounts for anything, the former vice president has cause for concern. Buttigieg held five events in the Granite State on Tuesday, participated in a town hall on Wednesday, and spoke to veterans in Merrimack Thursday afternoon. Biden made two get-out-the-vote appearances Tuesday and one on Wednesday (coupled with a CNN town hall in the evening), but was notably absent from the campaign trail on Thursday and is not scheduled to attend any events Friday before the Democratic debate.
His wife, Dr. Jill Biden, is traversing the state in his stead. She made an exceedingly awkward visit to the Bridge Cafe in downtown Manchester, where she was met by a sparse crowd whose press to voter ratio must have been 4 to 1. 
Dr. Biden was joined by former New Hampshire governor John Lynch during the retail stop, which was announced only to press ahead of time. Maneuvering through a sea of reporters, the former second lady finally reached a group eating lunch—only to discover they were tourists from Greenland without a ballot to cast next Tuesday.
Alexandra Weber, chief program officer at the International Institute of New England and a Massachusetts resident visiting for the day, told Dr. Biden about her experience working with displaced peoples. "She was really great because she immediately talked about all the refugee camps she has been to, as well as the U.S.-Mexican border. Because she's seen firsthand what the U.S.' response needs to be."
But asked if she was ready to cast her ballot for Dr. Biden's husband, Weber demurred. "It's so complicated. I will throw my weight behind whatever Democrat emerges," she said. "I'm a little bit more behind the people who are further left."
A few tables over, a TV anchor, cameraman in tow, asked a man in his late-20s if he had made up his mind. He was considering Biden, he said, but he liked Pete Buttigieg.
Photograph of Pete Buttigieg by Win McNamee/Getty Images.