A Breath of Fresh Air (Jordans)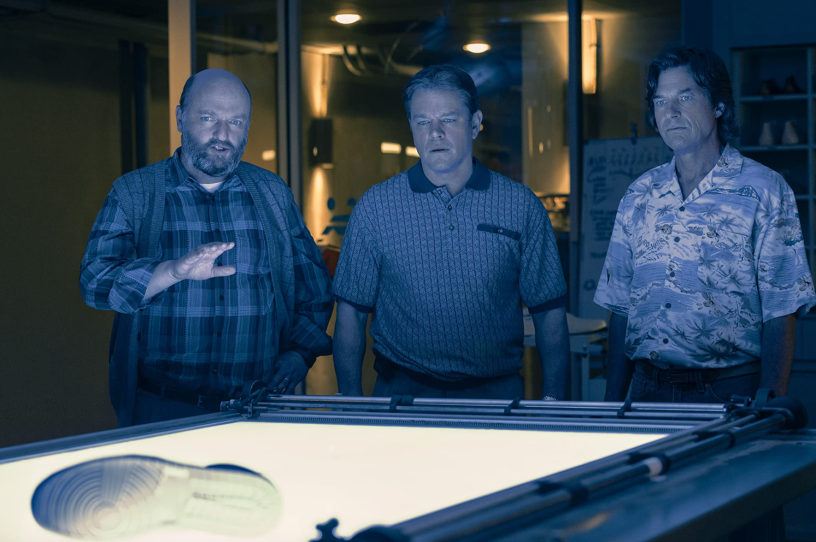 (Matthew Maher, Matt Damon, and Jason Bateman in 'Air.' Photo by ANACARBALLOSA/Ana Carballosa/Amazon Studios - © ANA CARBALLOSA)
Air Jordans are the most iconic sneakers in the world. The backbone of Nike's shoe lineup. A multibillion dollar concept that launched Nike to the forefront of the sports industry and ensured Michael Jordan's legacy would last off the court long after his playing career ended. It almost didn't happen: Entering the NBA, Michael Jordan didn't want to sign with Nike. How the shoe company changed his mind—and sports history—serves as the plot of Air, Ben Affleck's latest directorial project.
Back in 1984, Nike was a running shoe company. Its basketball division was so small its entire budget to sign players was the equivalent of what Adidas paid a single athlete. Adidas and Converse were basketball world royalty, and Nike was content to be a very distant third place finisher.
Until, that is, basketball guru and Nike employee Sonny Vaccaro (Matt Damon) upended the company by pushing to throw its entire basketball budget—intended for three or four players—behind a single player: Michael Jordan. And to boot, Nike would create an original shoe line around him. It's not often a story about the behind-the-scenes of corporate life succeeds in being interesting—particularly a story in which the corporation is actually a force for good—but Air manages to be one of the best films of the year thus far.
The film is not perfect. Affleck tried to play auteur, adding stylish flairs here and there to prevent the cinematography from being too straightforward. Viewers can expect lots of extreme close ups of faces and somewhat dizzying camera pans. Air is a fairly basic underdog sports story, and Affleck wanted to add some pizazz. But his artistic touches distract, and while it may have been less visually interesting, the film would have been better if Affleck had embraced the basics. The strength of Air is its story, and the tale of a corporation signing an athlete with promise of a shoe line is simply not a very visual one.
Get every newsletter and all of The Dispatch. Support quality, fact-based journalism.
Get Started
ALREADY HAVE AN ACCOUNT? SIGN IN