A Global Hostage Crisis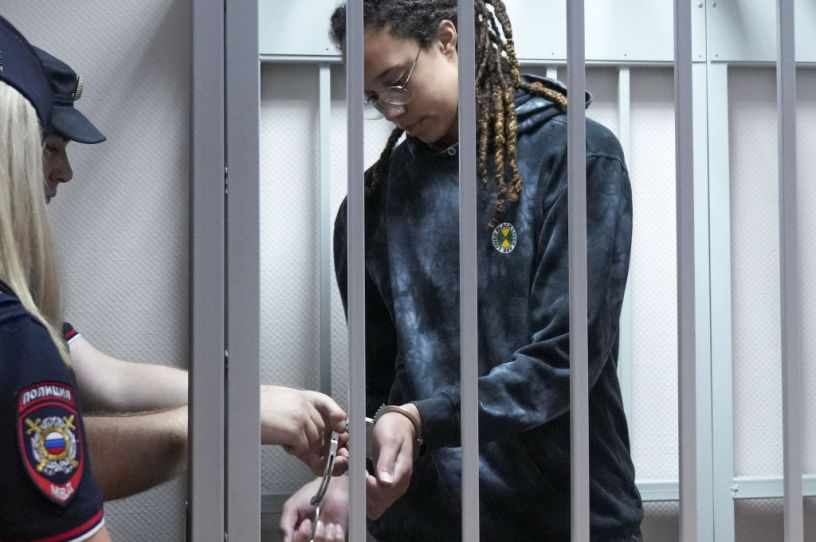 Brittney Griner, accused of drug smuggling, appears at the Khimki City Court in Moscow. (Photo by Pavel Pavlov/Anadolu Agency via Getty Images)
[UPDATE: American officials announced Thursday that they had secured the freedom of basketball star Brittney Griner from what the State Department considered wrongful detention in Russia. Griner's release came after a one-for-one prisoner exchange for Viktor Bout—nicknamed the "Merchant of Death"—a Russian arms dealer who was sentenced to 25 years in prison by a U.S. court in 2012. Many Americans are still behind bars in foreign countries across the world, including Russia.]
American basketball star and two-time Olympic gold medalist Brittney Griner celebrated her 32nd birthday in a Moscow prison cell last week. Unless the U.S. government can strike a deal with Russia, Griner may spend eight more birthdays there—all for accidentally bringing trace amounts of cannabis oil into the country.
The high-profile case of Griner, one of nearly 60 Americans known to be either wrongfully detained by foreign governments or held hostage by terrorist groups overseas (though the number is believed to be much higher), is forcing the Biden administration to rethink strategies it's preferred to keep quiet: hostage negotiations with foreign governments. It comes as America's adversaries are getting wise to the power of seizing U.S. nationals as political and economic bargaining chips.
Bartering with foreign governments for unjustly detained Americans isn't a new problem, but it is becoming a bigger one: Between 2001 and 2011, an average of five Americans per year were wrongly detained abroad, according to a recent report by the James W. Foley Legacy Foundation. Between 2012 and 2022, that number shot up to 34. Just five countries make up 75 percent of current wrongful detentions: Russia, China, Iran, Venezuela, and Syria.