A Total Meltdown in Iowa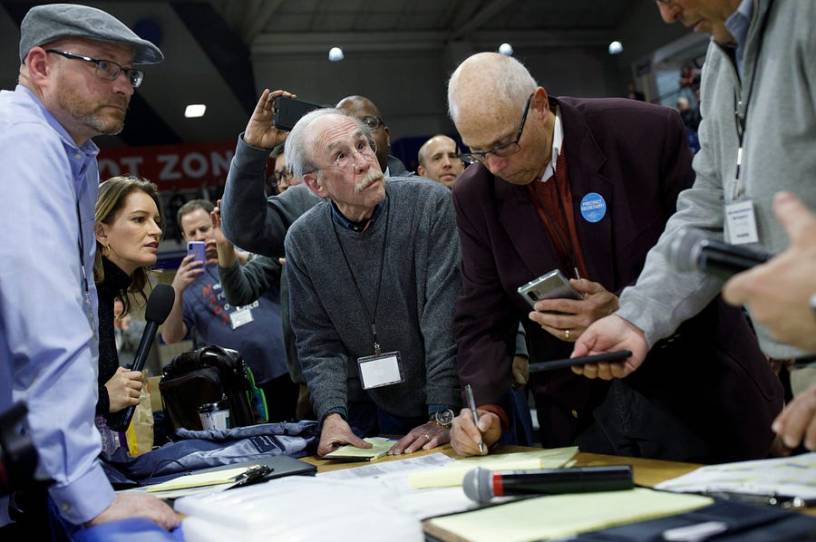 DES MOINES—It all started out like a typical Iowa caucus. Gathered around the gleaming basketball court at Drake University's Knapp Center, the caucus goers of Des Moines 62nd precinct—the city's largest—found themselves pretty evenly split. Elizabeth Warren had the strongest support, but all four of the other major candidates, including Bernie Sanders, Joe Biden, Pete Buttigieg, and Amy Klobuchar, had managed to stay above the 15 percent support benchmark needed to be considered "viable." Sanders' supporters looked in danger of missing the cutoff—until two of the dozen-odd voters who were there to support Tom Steyer wandered over to the Bernie group just before the first count was made.
Down the street, at the Drake Fieldhouse, things were getting complicated for the 38th precinct, which is largely comprised of the undergrads of Drake University itself. As the caucus groups formed up on the building's artificial turf, it quickly became clear that Klobuchar's and Biden's supporters would not reach the viability threshold, and the Warren, Sanders, and Buttigieg camps began sending emissaries around to try to lure the disenfranchised participants to their own groups. Instead of filtering into the other factions, however, the Klobuchar and Biden supporters struck a deal: Along with the handful of Andrew Yang fans at the caucus, they would form a new joint faction. The man they agreed to throw their support behind? Sen. Cory Booker, who dropped out of the race in January. Klobuchar's precinct captain told me the idea was to demonstrate that, while none of their candidates registered on their own, there was still plenty of enthusiasm for a moderate candidate at the caucus. Their combined forces were enough to deny a delegate to Sanders, whose supporters were far from pleased at the stunt.
Across town at First Presbyterian Church, Sanders supporters were left crying foul after supporters of the other campaigns worked together to ensure Biden, Warren, and Klobuchar would all be viable at the second ballot, resulting in a single delegate being awarded to each candidate despite Bernie having the most supporters at the caucus by far.
Out in the suburbs of West Des Moines, where Sen. Amy Klobuchar had stopped by a pair of caucuses taking place at Johnston Middle School to speak just an hour earlier, her campaign was still a few votes short of viability. Here, again, it was Steyer supporters who came to the rescue: One woman agreed to caucus for Klobuchar even though, she told a reporter, she wasn't her first or second choice.