All the Time in the World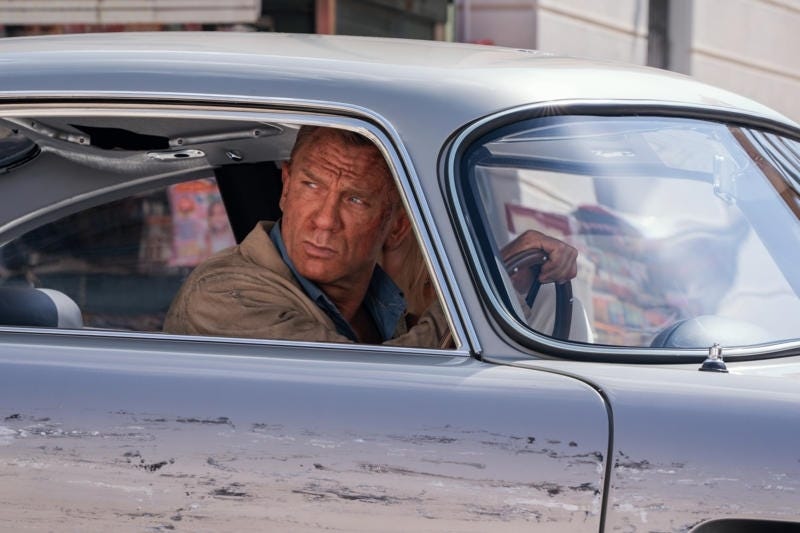 James Bond has never gotten (and probably never will get) a true finale. As soon as George Lazenby took over the role from Sean Connery and the idea of recasting the character every few years was formed, it became clear that no matter the risks he faced or how old he got 007 would never really die and he would certainly never retire—he'd simply reappear after awhile with a new face. The looser continuity such recasting leads to allowed the creative team behind Bond films to ignore the events of past films, doing away with overarching narratives in the place of episodic adventures. There might be some references to past adventures, but by and large each Bond film was essentially a standalone. Until Daniel Craig. 
Craig's final outing as James Bond, No Time to Die, is here at long last, and gives us not just the end of the first Bond narrative that spans multiple films, but the first Bond film that really feels like an end. We know that a new 007 is just around the corner, but if he weren't No Time to Die would make a fitting farewell not just to Craig but to the Bond series as a whole.
The movie picks up where the last film, Spectre, left off, with Bond in retirement with love interest Dr. Madeleine Swann (Léa Seydoux). He gets called back into action when his lover and the entire world are put under threat from a villain, Safin (Rami Malek), whose family was murdered by Swann's father. (No Time to Die was originally slated to be released in April 2020, until the COVID-19 pandemic happened and the film was postponed. Somewhat coincidentally, Safin's plot for world domination involves a virus used as a bioweapon.) But No Time to Die isn't just an action thriller: it's a movie about forging relationships after trauma, about an aging man who has been alone most of his life learning to trust those he loves. 
The key to appreciating this journey that Bond undergoes is a film with an entirely different 007: On Her Majesty's Secret Service, a film noteworthy for being Lazenby's first and only turn in the role and for featuring the best Bond song ever written, "We Have All the Time in the World." The song, written by frequent Bond composer John Barry and Louis Armstrong, serves as the love theme for the film, the leitmotif for the romance between Bond and Countess Tracy di Vicenzo, the woman who finally captures the infamous womanizer's heart and takes him to the altar. The song's romantic lyrics and sound disguise its ironic melancholy: The title comes from the last words Bond says to his bride at the end of On Her Majesty's Secret Service as she lies dead in his arms, weeping and trying to convince himself she's just sleeping.