An Unthinkable Choice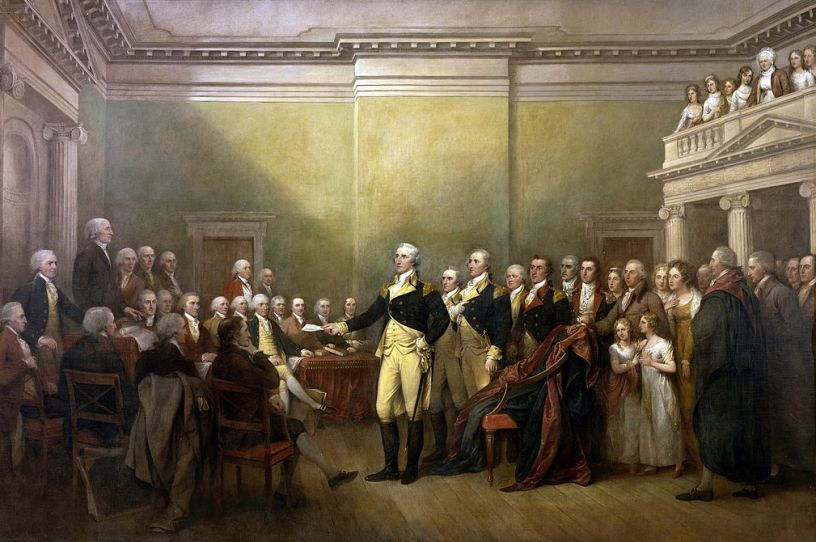 'General George Washington Resigning his Commission,' by John Trumbull, c 1824. (Photo by Universal History Archive/Getty Images)
Four John Trumbull paintings hang in the Rotunda of the U.S. Capitol: one of the signing of the Declaration of Independence, two depicting British surrenders at great American victories of the Revolutionary War, and one titled General George Washington Resigning His Commission. The art is well-chosen, as the act commemorated in the last painting is as important as what happened at Independence Hall, Saratoga, and Yorktown. In it, Washington made clear that he harbored no autocratic ambitions, that the army he commanded remained subject to civilian democratic control, and that it would play no role in domestic politics.
The painting is also relevant to our current moment. Former President Donald Trump has been charged with four felonies for his efforts to overturn the results of the 2020 election. As a veteran, my blood ran cold reading two particular passages in special counsel Jack Smith's indictment. They suggest that part of the former president and his co-conspirators' autocratic plan to remain in power, despite knowing that they lost the 2020 election, was to make the U.S. military choose between subservience to civilian control or refusing to undertake an anti-democratic domestic political role.
In the first passage, it appears that when a deputy White House counsel warned Assistant Attorney General Jeffrey Clark that if Trump remained in office despite the absence of any evidence of outcome-determinative election fraud, riots would break out in U.S. cities, Clark responded, "That's why there's an Insurrection Act." In the second, the indictment reports that when similarly warned of the risk of riots, Trump's outside counsel John Eastman responded that there were points in American history when violence was necessary to protect the republic.
At the time of these statements, Trump planned to name Clark acting attorney general—the nation's chief law enforcement officer—and Eastman had authored a memorandum advancing an argument, which he privately admitted was without legal merit, that Vice President Mike Pence could unilaterally reject slates of electors pledged to Joe Biden.
You're out of free articles
Create an account to unlock 1 more articles