Can Brad Raffensperger Thwart a Stolen-Election Offensive in Georgia?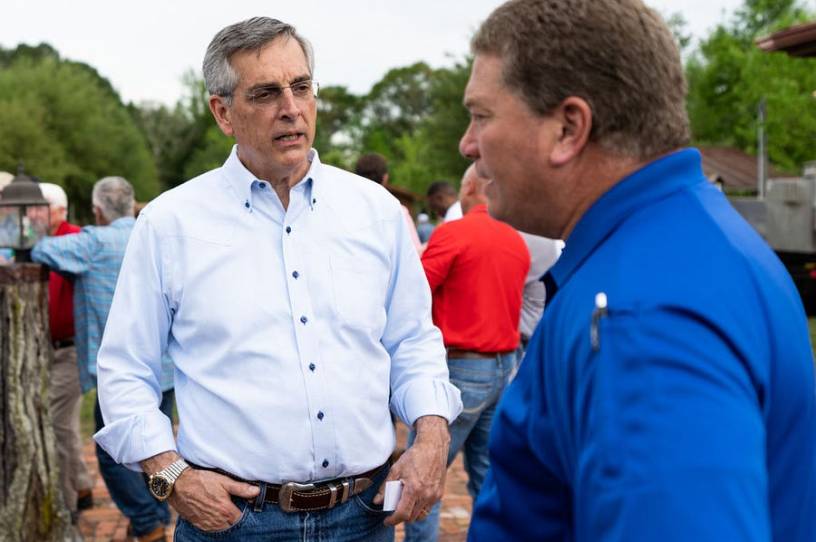 A few months ago, if you asked the median Georgia election-watcher about Secretary of State Brad Raffensperger's chances in his upcoming Republican primary, they'd likely have responded (depending on their own feelings) with a rueful wince or a smirk: Yeah, that guy's dead in the water.
You wouldn't have to ask why. When Raffensperger became a household name in late 2020, it wasn't under circumstances designed to endear him to the Republican electorate. In the wake of the presidential election, as then-President Donald Trump thundered that the vote had been rigged in his opponent's favor in Georgia (and many other states), Raffensperger was perhaps the most prominent state-level Republican official to take Trump's lies head-on. And as Trump has labored to turn the 2022 midterms into his own personal 2020 revenge tour, he has made Raffensperger a key target, recruiting four-term congressman and former pastor Rep. Jody Hice to return to the state to try to unseat him. Hice has modestly outraised Raffensperger in the contest, ending the latest filing period with $100,000 more cash on hand after outspending the incumbent $1.7 million to $1.3 million.
"Unlike the current Georgia Secretary of State, Jody leads out front with integrity," Trump said in a statement last year. "Jody will stop the Fraud and get honesty into our Elections!"  
Yet as primary day arrives, there's something strange underfoot in Georgia. Recent polls have found Raffensperger and Hice neck-and-neck, with a plurality of the electorate still undecided in the four-way contest.