Club for Growth Previews Its Senate Playbook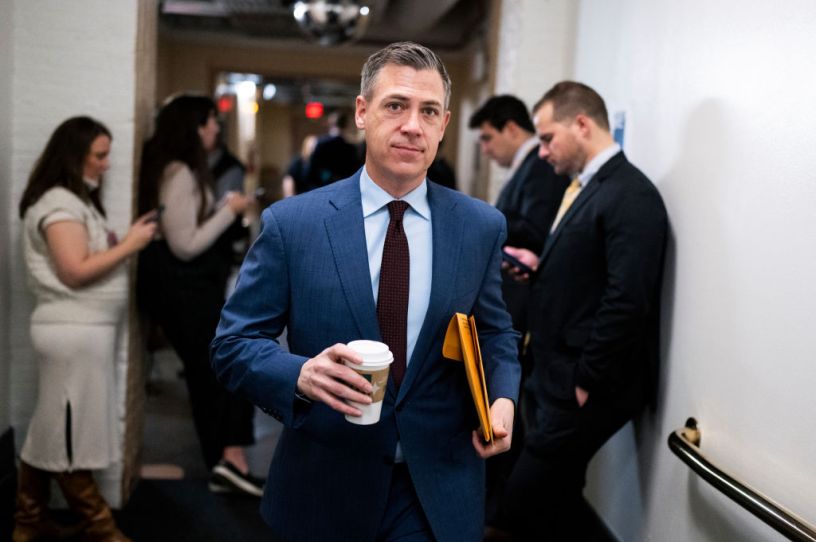 Rep. Jim Banks walks through the Capitol on January 3, 2023. (Tom Williams/CQ-Roll Call, Inc via Getty Images)
Club for Growth President David McIntosh took credit Monday for former Indiana Gov. Mitch Daniels' decision not to run for Senate in 2024. The 73-year-old, former two-term governor's move came after the anti-tax organization's super PAC, Club for Growth Action, pledged to spend millions on GOP Rep. Jim Banks' behalf if Daniels decided to challenge him for retiring Sen. Mike Braun's seat.
"In Indiana, we endorsed Jim Banks, and did a sort of hit ad on Mitch Daniels to signal to him: If he did get in it would be a real race," McIntosh told reporters.
The Club for Growth's early involvement in Indiana's Republican Senate primary is a preview of its 2024 Senate strategy: spend millions in races boosting economic conservatives in Republican primaries.
The organization is actively recruiting candidates in Montana and West Virginia, two battlegrounds former President Donald Trump carried by double-digit margins in 2020 (and where incumbent Democratic Sens. Jon Tester and Joe Manchin are considered especially vulnerable). Club for Growth's investment could hit seven figures in each state: It spent more than $38 million in Republican Senate primaries during the 2022 cycle, according to the group's spokesman Joe Kildea.