Inside the Club for Growth's Push for Kevin McCarthy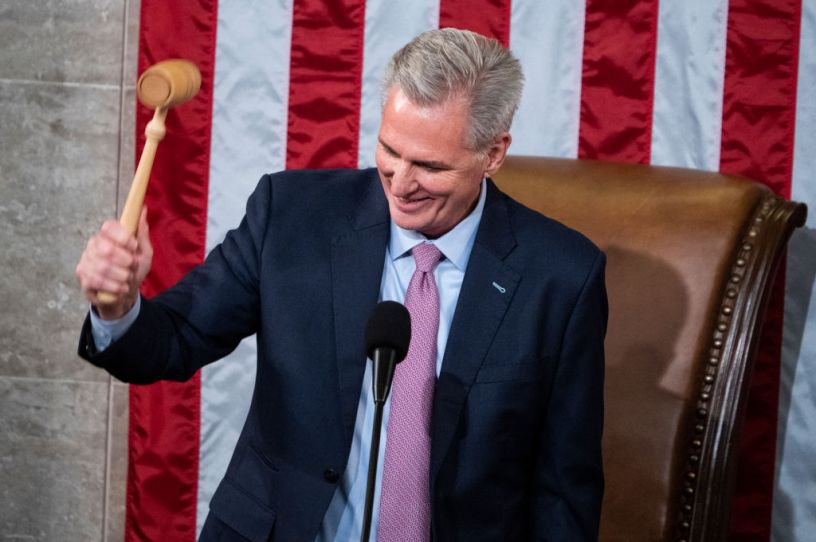 Speaker of the House Kevin McCarthy takes the gavel after securing the speakership on the 15th ballot on Saturday. (Tom Williams/CQ-Roll Call, Inc via Getty Images)
On January 2 the anti-establishment Club for Growth issued a "key vote alert." The notice urged Republican representatives to support a candidate for House speaker who would push for "transformational reforms to the House" and "restore the individual rights and powers of the rank-and-file membership." The implication was clear: Don't support Kevin McCarthy's bid for speaker unless he agrees to a bevy of changes to House rules.
Two days into McCarthy's protracted battle for the top job in the House, the Club for Growth endorsed his bid. McCarthy had signaled he would consider many of the rules changes and also cut another deal: The Club would support him so long as the McCarthy-aligned Congressional Leadership Fund (CLF) stopped spending in open Republican primaries in "safe" congressional districts or financially support any other groups that choose to do so.
The deal proved pivotal to winning over 20 Republican holdouts, many of whom McCarthy-aligned donors earlier had opposed in GOP primaries. The pledge was also a blatant power play from the Club for Growth, as it could result in more Freedom Caucus-style candidates making it through Republican primaries and into the House—further weakening McCarthy's hand in future negotiations with his own party.
Discreet Opposition