Congress Attempts to Tackle College Athlete Compensation—Again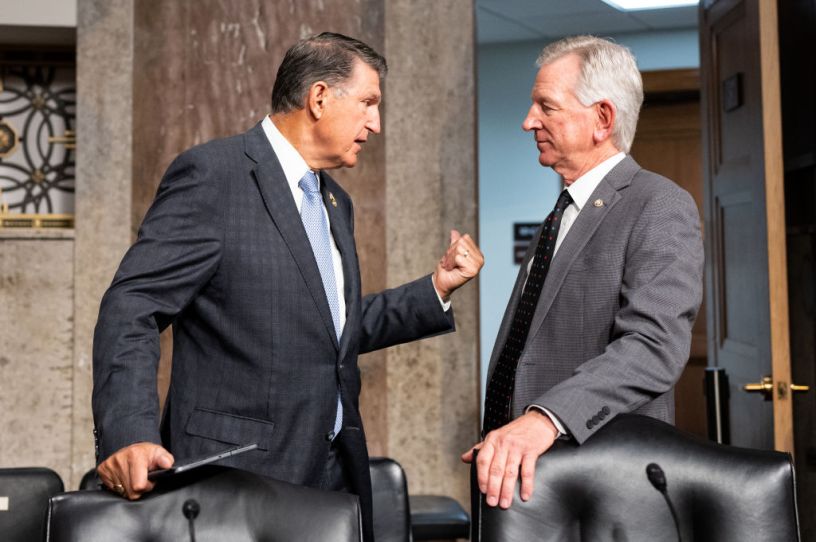 Sen. Joe Manchin, left, and Sen. Tommy Tuberville, talk before a hearing on Capitol Hill Tuesday, July 11, 2023. (Bill Clark/CQ-Roll Call/Getty Images)
It's deja vu all over again. A sports phrase, one ascribed to Yankees legend Yogi Berra, is appropriate to capture the sudden rush of collegiate athlete name, likeness, and image (NIL) bills that have spread through Congress in recent weeks.
In 2021, the Supreme Court ruled in National Collegiate Athletic Association v. Alston that the organization's rules limiting student compensation were unconstitutional. In response, the NCAA lifted its ban on student athletes profiting from their NIL, meaning student athletes had a right to endorse products and build their own brands.
In the months after Alson, a patchwork quilt of NIL rules emerged at the state level. Worried about the Wild West nature of it all, Congress proposed scores of NIL regulation bills: some advantageous to athletes, some to the NCAA and schools. The NCAA had just lost a 9-0 decision at the high court that found it violated students rights and so was in no position to lobby for NIL restrictions, and the pandemic rendered NIL legislation a low priority. The bills went nowhere.
NIL deals took off, with by some estimates nearly $1 billion in deals for everyone from gymnasts to offensive linemen in the first year through July 2022. Schools set up the collectives to assist students, and the lucre came rushing in. According to the website On3, which tracks NIL compensation, the current top earner is USC freshman Bronny James (his father is LeBron James) with $6.3 million, followed by LSU gymnast Livvy Dunne, who has earned $3.3 million. Students now routinely transfer to schools with better NIL prospects and some even defer entering the pros because the money is better in school.