Democrats Waffle on Mask Messaging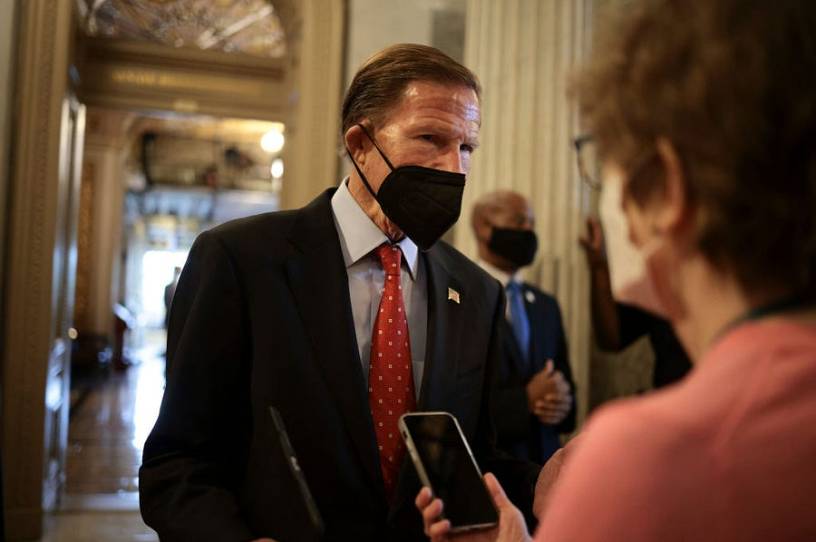 For most of the coronavirus pandemic, Democrats have rallied around the phrase "follow the science" as a unifying public mantra while defending the effectiveness of vaccines and masks. 
But now that Democratic governors in several states—including New Jersey, California, Delaware, Rhode Island, Oregon, and New York—are lifting mask mandates amid a decline in Omicron cases, liberal lawmakers from those states are at a crossroads. Should they publicly defend their governors' decisions to lift mandates? Or should they continue to stand by ultra-cautious Centers for Disease Control and Prevention (CDC) guidelines? On both questions, Democratic lawmakers struggle to speak with one voice.
Just ask Democratic Sen. Richard Blumenthal of Connecticut, where indoor masking policies will be left in the hands of local officials beginning February 28, per an executive order from Democratic Gov. Ned Lamont last week. "I think our governor over the last two years has listened to public health experts and followed the medical science, and he seems to be doing so in this instance as well," Blumenthal told The Dispatch Thursday.
He struggled to reconcile his governor's executive order with the cautious pandemic strategy of President Joe Biden, who told NBC's Lester Holt during an interview last week that Democratic governors' easing of mask mandates is "probably premature" but nevertheless a "tough call" for state executives to make.