Did Venezuela Free Prisoners So They Could Infiltrate the United States?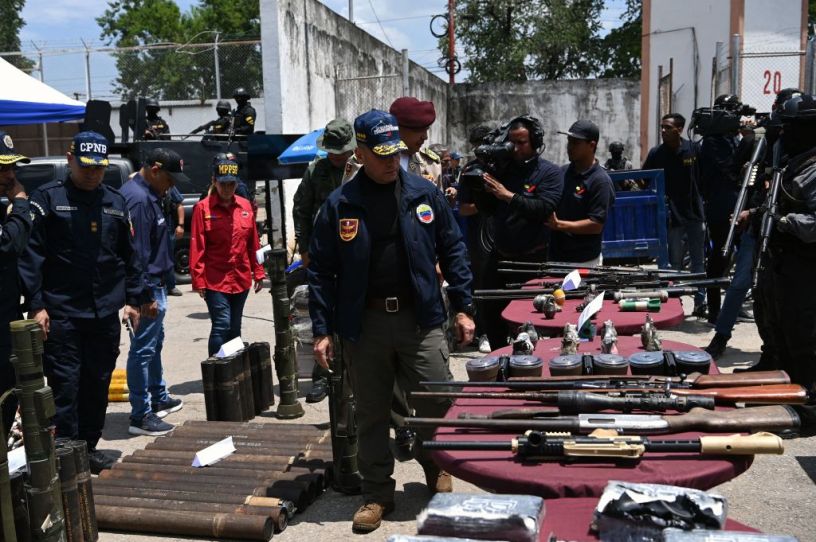 Gen. Remigio Ceballos inspects confiscated weapons and ammunition during a press conference after authorities seized control of the prison in Tocoron, Venezuela, on September 21, 2023. (Photo by Yuri Cortez/AFP/Getty Images)
In a secretive agreement with the Chinese government, tens of thousands of Venezuelan criminals have been freed from captivity, trained, armed, and transported through Mexico to the U.S. border in order to infiltrate the country—at least according to a viral Facebook video. The video, which has more than 259,000 views and 15,000 likes, was posted to the site on September 23 by American News Network, a page with 200,000 followers run by Chris Sanders, a self-described former oil and gas producer who is "dedicated towards exposing the fraudulent Administration that we have in office today." 
Sanders references a number of videos, including footage from Venezuelan President Nicolás Maduro's recent visit to Beijing. This video, he asserts, shows more than just a typical state meeting. Instead, Maduro and Chinese President Xi Jinping supposedly discussed emptying Venezuelan prisons and transferring the inmates and military members into the United States through the southern border. A similar claim originated a year ago in a Brietbart article that alleged that the U.S. Border Patrol received a Department of Homeland Security intelligence report instructing agents to search for Venezuelan inmates crossing into the country. However, the article's only source was an unnamed Customs and Border Patrol agent who was "not authorized to speak to the media," and a PolitiFact story found no evidence for the existence of the report.
Similar to last year's rumor, The Dispatch Fact Check found no evidence to suggest that Xi and Maduro discussed the transfer of Venezuelan prisoners into the United States. The two countries reportedly met in an effort to promote stronger ties, and they signed a number of bilateral cooperation agreements focused on areas including trade, tourism, economy, science, and technology. Venezuela also expressed its willingness to work with China within the BRICS partnership, a loose economic alliance between Brazil, Russia, India, China, and South Africa that is looking to add a number of other countries—including Saudi Arabia and Iran—to its ranks in the future.
Sanders claims to have further evidence, however, and the video proceeds to display footage supposedly proving his theory that prisons were emptied in Venezuela. The primary video that Sanders references in his broadcast is actually footage from the aftermath of an operation conducted last week by Venezuelan security forces to retake control of the Tocorón Penitentiary Center, a Venezuelan prison that had previously been controlled by inmates from a gang known as Tren de Aragua. In the full video, footage of crying women that Sanders asserts are mourning the departure of their husbands to the United States are shown to actually speak about their concern for the safety of relatives during the raid. Likewise, Sanders uses footage displaying dozens of firearms covering the ground as evidence that the prison's inmates were being trained in the use of multiple weapon systems. In reality, those firearms are the ones seized by security forces from the inmates controlling the prison grounds. Similarly, footage of buses of inmates being transferred from the prison were not bound for the U.S. border, but instead to other prisons within the country.
The assertions made by Sanders in his video have no basis in fact.
If you have a claim you would like to see us fact check, please send us an email at factcheck@thedispatch.com. If you would like to suggest a correction to this piece or any other Dispatch article, please email corrections@thedispatch.com.