Eric Greitens Tries Again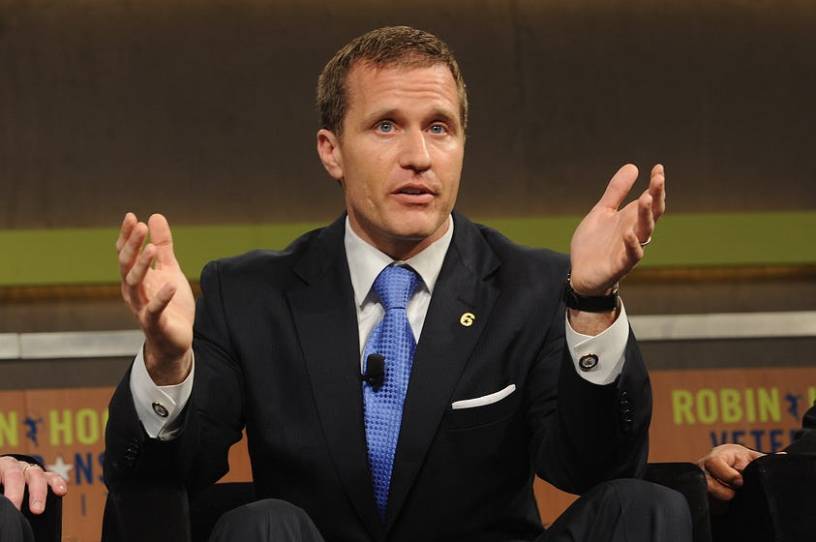 Three years ago, Missouri Gov. Eric Greitens' political career was at an apparent end. A woman with whom he'd had an affair had publicly accused him of sexual blackmail and violence, and his own attorney general had opened an investigation into a possible campaign finance crime. Deserted by his own state party, facing likely impeachment, Greitens announced his resignation that May.
Recently, however, Greitens has been popping up again—on Tucker Carlson, at public events around Missouri. He launched an internet show and spent thousands on PR to improve his statewide public image. And now the former governor is attempting a comeback in earnest: He took to Fox News last month to announce that he would run for U.S. Senate in 2022.
Greitens enters the race as an undeniable contender: A Remington Research/Missouri Scout poll last week put him at 40 percent support, compared to 39 percent for state attorney general Eric Schmitt. But with shocking scandals still fresh in voters' minds, a lack of allies in the state, and several other strong challengers preparing to enter the race, whether the former governor can turn back the clock remains to be seen.
It wasn't long ago that Greitens was hailed as a rising star in the GOP. A former Navy SEAL, he stormed into politics in 2015 on a gubernatorial platform of cleaning up state corruption. He had no political experience but several political advantages, including a strong résumé, a gift for staying on message, and some big-time national connections: Nick Ayers, the high-powered consultant who would go on to serve as Vice President Mike Pence's chief of staff, consulted for the campaign. Grassroots conservative groups got excited about his fiery anti-establishment rhetoric. After winning a four-way primary with 35 percent of the vote, Democrat-turned-Republican Greitens defeated Republican-turned-Democrat Chris Koster by 6 points in the 2016 general election.