Europe's Climate Agenda Is a Cautionary Tale for the U.S.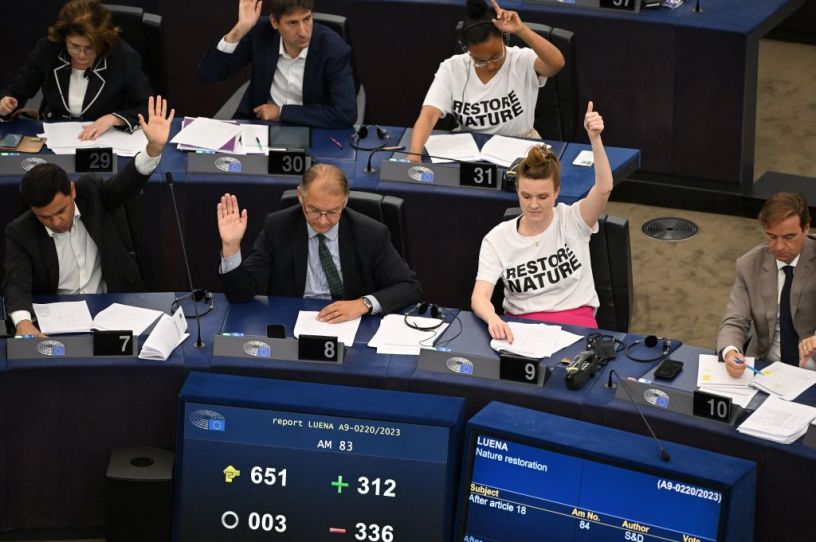 Members of the European Parliament wearing T-shirts reading "Restore Nature" react as they take part in a voting session on EU nature restoration law during a plenary session at the European Parliament in Strasbourg, France, on July 12, 2023. (Photo by Frederick Florin/AFP/Getty Images)
Should the United States be more like Europe—greener and with a more generous social safety net? For most on America's left, the answer is a no-brainer. But recent developments remind us that the European model comes with a hefty price tag.
Europeans seem to want to have it all: stringent environmental and regulatory standards to drive decarbonization; "strategic autonomy," especially from powers such as Russia or China; and rising levels of economic prosperity. These goals form a policy trilemma. Europeans can pick two—or a limited combination of the three—but they cannot pursue all three at once. And that should be a warning to Americans.
Already, Europe's growth record is deeply unflattering. Between 2000 and 2019, the EU's economy expanded at an average annual rate of just 1.4 percent. If the United States became a member of the EU, it would be its third wealthiest member, right after Luxembourg and Ireland, whose national income statistics are skewed by the presence of headquarters of large multinational companies operating across the EU.
Conversely, if EU member states joined the Union, they would be on its poorest fringe: In terms of purchasing power, Austria, Sweden, and Germany, some of the EU's most prosperous economies, are poorer than Oklahoma or Tennessee, which fall into the bottom third of U.S. states by real per-capita income. Spain and Portugal, alongside the growing-but-still-poor Eastern European countries, have lower incomes than the least well-off U.S. economy, Mississippi.
You're out of free articles
Create an account to unlock 1 more articles