'Every Single County Is Now a Border County'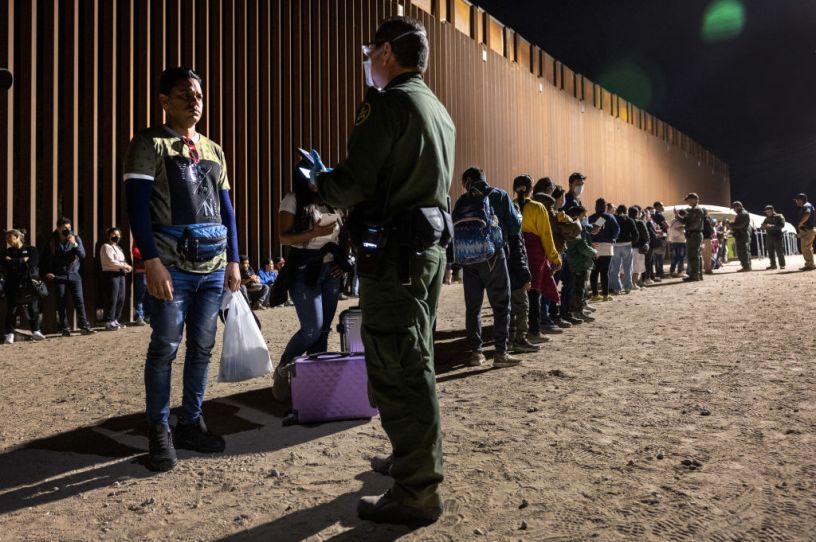 Immigrants seeking asylum in the United States are processed by U.S. Border Patrol agents after crossing into Arizona from Mexico. (Photo by John Moore/Getty Images)
Republicans have hammered Democrats on economic issues as they push to retake the House and Senate. Yet if the GOP succeeds, it'll be in part because of another issue that hasn't driven as much coverage this year: immigration.
Warnings about unchecked illegal immigration have been a core part of Republican base messaging for years. But this cycle the issue has become more powerful as President Joe Biden presides over record-shattering levels of border crossings and already backlogged immigration courts all but collapse under the strain.
Only 6 percent of voters rank immigration as "the most important problem facing the country today," according to Gallup's latest trend polling. But in a Pew survey last month, no policy area favored Republicans more heavily: Among the 54 percent of registered voters polled who see immigration as "very important" to their vote, 57 percent said they would vote today for the Republican in their district. Just 28 percent prefer the Democrat.
Think of immigration as the GOP's answer to the Democrats' advantage on abortion. The same Gallup "most important problem" survey put abortion at 4 percent. And of the 56 percent of registered voters in the Pew survey who ranked abortion "very important," likely Democratic voters outnumbered likely Republican supporters 55 percent to 29 percent.