Fact Check: Debunking Donald Trump's Claims About Voter Fraud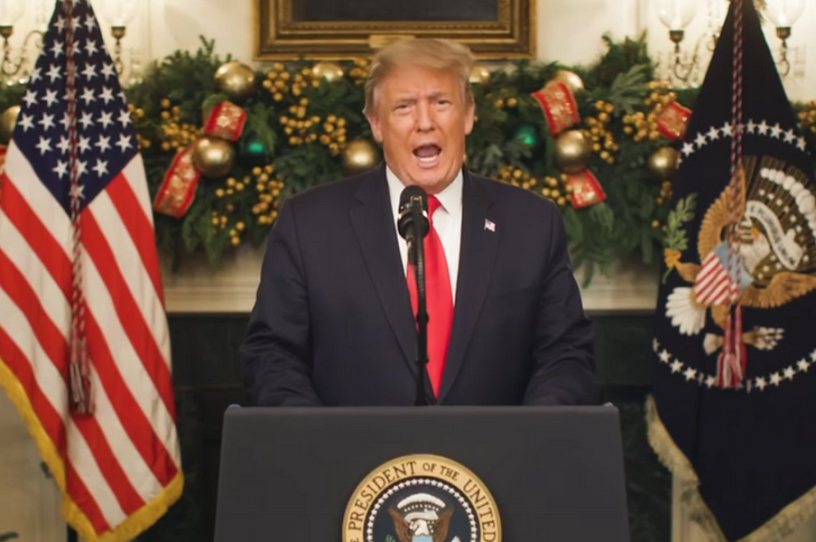 President Donald Trump released a video on Tuesday, in which he explains why he thinks he actually won the 2020 presidential election. "The truth is we won the election by a landslide, we won it big," said Trump of an election President-elect Joe Biden won by more than 7 million votes and 74 electoral votes.
In the video, Trump claims that after early returns showed him ahead in Michigan, Wisconsin, Georgia, and Pennsylvania, "a series of massive and statistically inconceivable vote dumps" swung the states to Biden. He stated: "At 6:31 a.m., very early in the morning, Michigan suddenly reported 147,224 votes. 94 percent for Biden, 6 percent for Trump. At 4:42 a.m. Wisconsin reported 143,279 votes, almost all of them for Biden. A similar massive drop of ballots happened in Georgia at 1:34 a.m., again almost all of these votes for Biden."
The Michigan ballots have already been addressed in a past fact check: Michigan did not suddenly report 147,224 ballots, with 94 percent, or, more precisely 138,339 ballots, going to Biden. A nonpartisan election news outlet, Decision Desk HQ, reported a typo in election data, reporting 153,710 Biden votes in one county instead of 15,371.
The error was quickly caught and corrected. As Khaya Himmelman noted in her fact check on the matter: "It's important to stress, too, that all this was purely clerical—a data entry hiccup, not in ballot counting itself. No new ballots were 'found.'"
Get every newsletter and all of The Dispatch. Support quality, fact-based journalism.
Get Started
ALREADY HAVE AN ACCOUNT? SIGN IN