Fact Check: Did NATO Just Place 300,000 Troops on High Alert After a Biden Gaffe?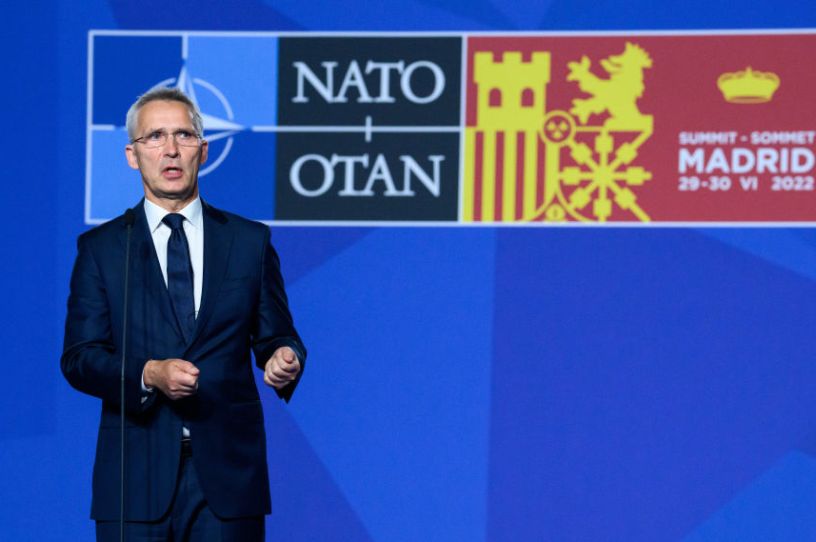 Jens Stoltenberg, NATO secretary-general, speaks before the start of the NATO summit in Madrid on June 27, 2022. (Photo by Bernd von Jutrczenka/picture alliance/ Getty Images)
A viral Facebook post published last week asserts that NATO "just" placed 300,000 troops on high alert following an interview slip-up from President Joe Biden. The post includes a video by Restricted Republic, an "audience funded" news site with a mission to "take the overabundance of mainstream media miss-information, peal back the layers of lies to reveal the truth that's found at the heart of the issue." According to Justus Knight, the video's presenter and a founder of the site, these two events "may very well have just steered us right into a collision course with something that nobody wants to see happen: and that is the next World War."
Not only does the video falsely imply a cause-and-effect relationship between two unrelated events, but those events happened more than a year apart. Moreover, the troops were placed on high alert before Biden's interview. The clip of Biden cited in the video is from a July 7 CNN interview with Fareed Zakaria in which the president defended his decision to send cluster munitions to Ukraine. "The Ukranians are running out of ammunition," Biden said, referencing the 155mm NATO-standard artillery shells used heavily by Ukraine in its war effort. "This is a war relating to munitions, and they're running out of that ammunition, and we're low on it," he continued.
Knight says in response: "That information would be considered, by most, information that no one should give out to an enemy. We are out of ammunition, Ukraine is out of ammunition, we have no more remaining. What happens immediately thereafter? NATO readies 300,000 troops, puts them on high alert."
NATO placed 300,000 troops on high alert in June 2022, more than a year before Biden gave the interview in question, not "immediately thereafter." The Restricted Republic video features a clip of NATO Secretary-General Jens Stoltenberg announcing the movement just before a NATO summit in Madrid last summer. It increased the number of troops to more than 300,000 from the 40,000 that had previously made up NATO's quick reaction force. The increase was prompted by the perception of a Russian threat following its invasion of Ukraine four months earlier. It was also part of a broader reset of the alliance's defense and deterrence posture.
Even though Biden did receive some criticism for his comments that the U.S. and Ukraine were running low on ammunition, Ukrainian President Volodymyr Zelensky had been asking for additional ammunition since well before Biden's decision to send cluster munitions to the country in July 2023. Additionally, the U.S. maintains a minimum reserve of weapons and ammunition, so it still has enough 155mm shells in its stockpiles to maintain readiness. "Everything we send to Ukraine is in excess of [reserves]. So, the U.S. is not running out of ammunition ourselves," a White House official told Fox News Digital at the time.
If you have a claim you would like to see us fact check, please send us an email at factcheck@thedispatch.com. If you would like to suggest a correction to this piece or any other Dispatch article, please email corrections@thedispatch.com.