Fact Check: Did Tim Michels Say It's 'Not Unreasonable' to Force Rape Victims to Give Birth?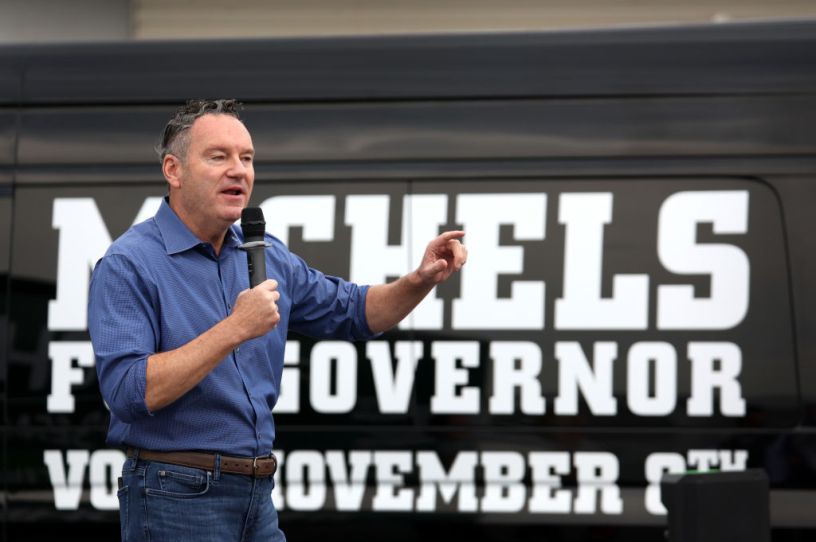 Republican gubernatorial candidate Tim Michels. (Photo by Scott Olson/Getty Images.)
A political advertisement from the Alliance for Common Sense—a political action committee aligned with the Democratic Party—claims that Tim Michels, the Republican nominee for governor of Wisconsin, said "it's 'not unreasonable' to force rape victims to give birth."
The six-second clip flashes the words "Tim Michels thinks it's 'not unreasonable' to force rape victims to give birth" across the screen, citing a June 14, 2004, article from the Wisconsin State Journal. The Dispatch Fact Check found the article in question in LexisNexis' media database, and the advertisement quotes Michels accurately.
In response to a question about whether a rape victim should have to go through "that birth and all that trauma," Michels is quoted as saying: "I think she's going to pick up mental trauma from having the abortion as well. To ask her to go through the birth is not unreasonable when you talk about killing the life of that baby."
Following the Supreme Court decision in Dobbs v. Jackson Women's Health Organization, an 1849 law banning abortion in all cases except to protect the life of the mother took effect in Wisconsin. Democrats are challenging the law in court, but as things currently stand, there are no rape or incest exceptions for abortion in Wisconsin. On September 23, 2022, Michels said in an interview that he would support implementation of such exceptions. Appearing on radio host Dan O'Donnell's show, Michels was asked if he would sign a law that created abortion exceptions for rape and incest. Michels told the host: "I am pro-life and I make no apologies for that. But I also understand that this is a representative democracy. And if the people—in this case, the legislature—brought a bill before me, as you just stated, I would sign that."
If you have a claim you would like to see us fact check, please send us an email at factcheck@thedispatch.com. If you would like to suggest a correction to this piece or any other Dispatch article, please email corrections@thedispatch.com.