Fact Check: More False Claims About Dominion Voting Systems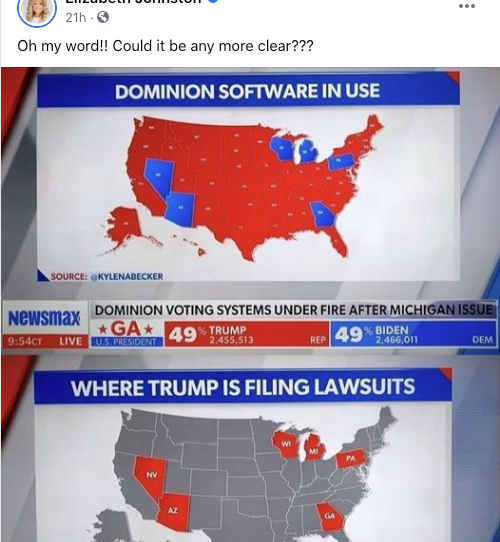 A viral Facebook post shows two maps: one purporting to show states in which Dominion Voting Systems' vote-tabulating software is in use and the other showing states in which President Donald Trump is contesting the results through lawsuits. The maps show all contested states used Dominion software.
However, the images don't tell the whole story. Dominion is not used in every county in the states that the Trump campaign is contesting, and it is used in a number of other uncontested states across the country. Every county in Georgia uses Dominion, for example, but in Michigan, 65 out of 83 counties use Dominion. 
Dominion's website notes that the company has customers in 28 states plus Puerto Rico. That includes 10 states that Trump is projected to have carried in 2020, including Utah, Texas, Louisiana, Florida. The results of those states that have counties using Dominion's tabulating technology in some capacity have not been challenged by critics of the software.
As noted in a previous fact check, conspiracies surrounding Dominion are without merit. Michigan's secretary of state said, for example, that "user human error" caused misreporting of some unofficial results and the error was corrected. Gwinnett County, Georgia experienced delays in reporting the election results, but those problems did not affect the vote count itself. There's no evidence that the software has been used to change votes from Trump to Biden.
You're out of free articles
Create an account to unlock 1 more articles