Fact Check: Tucker Carlson Cites False Ukrainian Casualty Numbers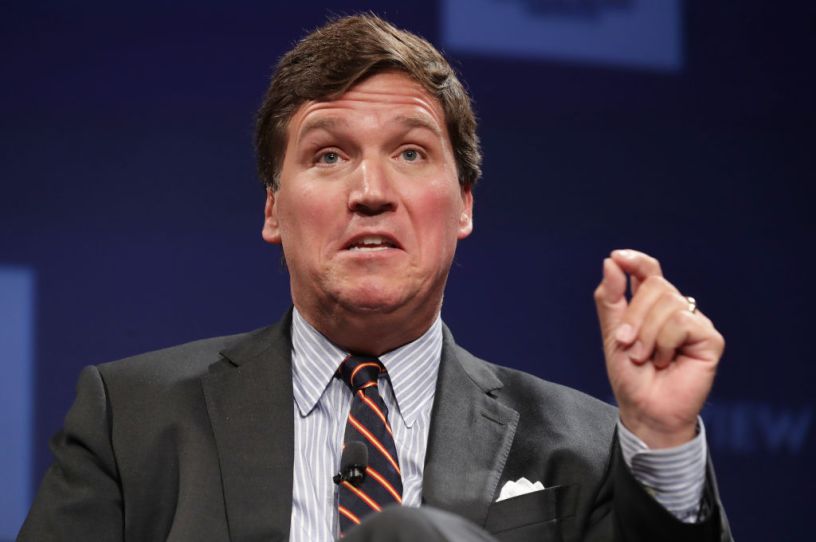 Tucker Carlson. (Photo by Chip Somodevilla/Getty Images.)
During an April 13 broadcast, Fox News host Tucker Carlson cited a tranche of recently leaked U.S. intelligence documents as evidence that "Ukraine is in fact losing the war" against Russia. Carlson said that "seven Ukrainians are being killed for every Russian," a claim that receives no support from the leaked documents, the authenticity of which has been confirmed by U.S. officials.
Carlson did not provide a citation for his claim regarding the ratio of Ukrainian to Russian dead, but the numbers he cited are explicitly contradicted by the leaked intelligence documents he referenced elsewhere in his April 13 broadcast. According to reporting by the New York Times, the leaked documents estimate that up to 43,000 Russians and 17,500 Ukrainians have been killed in action during the war. These numbers have been corroborated by other sources including Reuters, the Wall Street Journal, CNN, and the Financial Times. Here are the broader casualty estimates from the documents as reported by Jake Epstein of Business Insider:
One document in particular suggests that Russia has suffered between 189,500 and 223,000 casualties, including between 35,500 and 43,000 soldiers killed in action and between 154,000 and 180,000 troops wounded.

Ukraine, by contrast, has suffered between 124,500 and 131,000 casualties, including between 15,500 and 17,500 soldiers killed in action and between 109,000 and 113,500 troops wounded.  
A counterfeit version of the leaked casualty report that greatly exaggerates Ukrainian casualties and downplays Russian casualties has been circulated online by a pro-Kremlin social media personality who styles herself "Donbass Devushka." "Donbass Devushka" is actually 37-year-old former U.S. Navy legal clerk Sarah Bils, who presently resides in Oak Harbor, Washington, near Naval Air Station Whidbey Island where she once served. A news exclusive and interview with Bils conducted by the Wall Street Journal includes this assessment of her social media posts pertaining to Russian and Ukrainian casualty numbers:
Some of the slides reposted on the Telegram account overseen by Ms. Bils had been altered from the otherwise identical photographs allegedly posted by Airman Teixeira on Discord—changed to inflate Ukrainian losses and play down Russian casualties. A subsequent post on the Donbass Devushka Telegram channel, on April 12, denied that the image had been doctored by the administrators.   
It is unclear as to whether or not the altered documents posted by Bils constitute the source of Carlson's claim. The Dispatch Fact Check has contacted Fox News for clarification regarding his sources. 
If you have a claim you would like to see us fact check, please send us an email at factcheck@thedispatch.com. If you would like to suggest a correction to this piece or any other Dispatch article, please email corrections@thedispatch.com.