Fact Checking Claims About the FBI, a Chinese Spy, and Hunter Biden's Laptop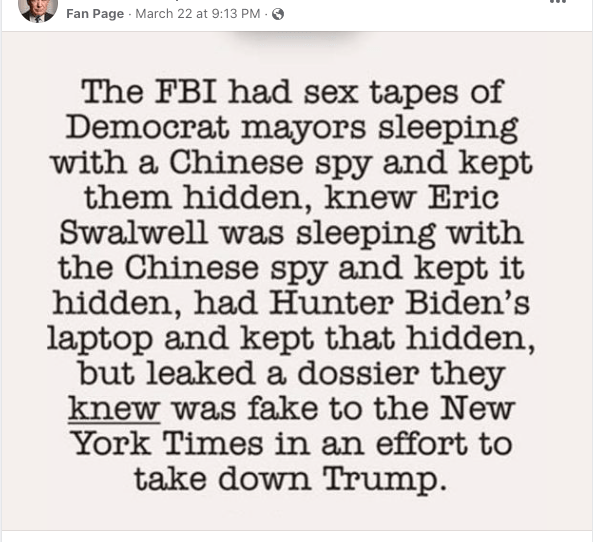 A viral post from a Facebook page named President Trump Fans claims that the FBI has proof of Democratic mayors and Rep. Eric Swalwell (D-California) having affairs with a Chinese spy, and that the bureau also possessed Hunter Biden's laptop. The post also claims that the FBI knowingly leaked a fake dossier on former President Donald Trump.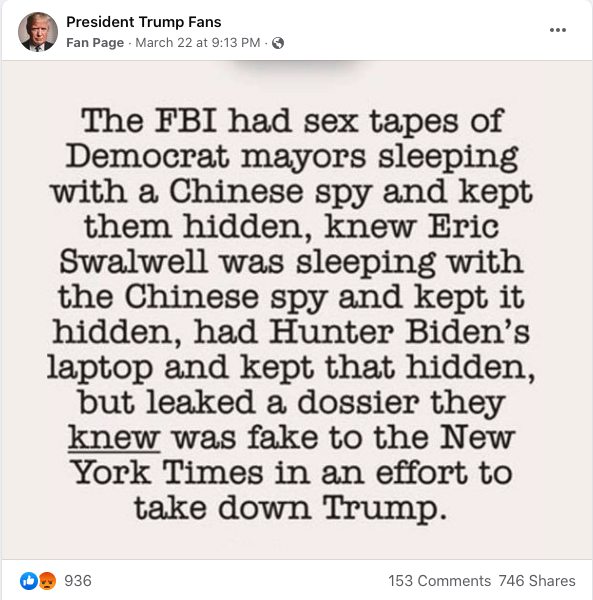 Parts of the post are true: U.S. intelligence agencies found proof that a Chinese operative named Fang Fang, or Christine Fang, had "romantic or sexual relationships with at least two Midwestern mayors." Among this proof is at least one surveillance video of a rendezvous with Fang and one of the mayors. However, the mayors were not identified in reporting on the subject, and, as such, neither was their political party affiliation.
Fang was an early supporter of Swalwell, and fundraised for his 2014 campaign. A current intelligence officer told Axios that when Swalwell was notified of concerns about Fang by U.S. intelligence in 2015, he cut ties with her. Swalwell has not been accused of any wrongdoing and Axios, which broke the story, did not suggest that Swalwell had a romantic or sexual relationship with Fang. Swalwell refused to comment on Fang for Axios or subsequent news outlets, saying that information might be classified, including outlets that reached out to ask about a possible sexual relationship between Swalwell and Fang. Fox News host Tucker Carlson claimed that such a relationship existed, which a Fox representative said was based on "original reporting."
The post is correct that the FBI possesses the laptop that Hunter Biden left behind in a computer repair shop. After realizing the laptop contained emails and other documents belonging to Biden, the computer shop owner notified the FBI, which seized the laptop. The FBI's possession of the laptop was reported by the NY Post in the article which originally reported on some of the laptop's contents. The contents of the laptop are being used in an investigation into Biden's tax affairs, lobbying, and business deals that has been ongoing since 2018.
Get every newsletter and all of The Dispatch. Support quality, fact-based journalism.
Get Started
ALREADY HAVE AN ACCOUNT? SIGN IN