Fact Checking Donald Trump's Speech From the 'Save America March'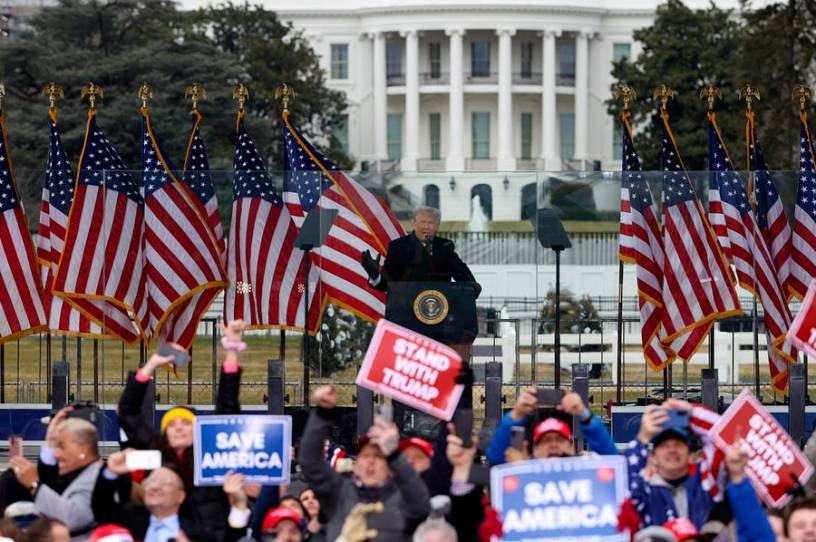 Shortly before a violent mob stormed the U.S. Capitol on January 6, President Trump gave a speech in front of a "Save America March" during which he went through a litany of familiar conspiracy theories and false voter-fraud allegations about the presidential election. 
Trump began his speech by claiming that he won the 2020 presidential election, despite the fact that on December 14, the Electoral College confirmed Joe Biden's victory with 306 electoral votes. Trump, however, claimed: "This was not a close election. I say sometimes jokingly, but there's no joke about it, I've been in two elections. I won them both and the second one, I won much bigger than the first." Early Thursday morning, Vice President Mike Pence announced Biden's victory over Trump after Congress completed counting the electoral votes. 
Trump went on to question Biden's voter total, asking the crowd: "By the way, does anybody believe that Joe had 80 million votes? Does anybody believe that? He had 80 million computer votes. It's a disgrace. There's never been anything like that."  As we explained in a December 2 fact check, an especially high voter turnout (including early voting measures), voter enthusiasm, and population growth explain why Biden got as many votes as he did. 
Then, once again, Trump claimed that Pence had the power to reject electoral votes: "[A]ll Vice-President Pence has to do is send it back to the States to recertify, and we become president, and you are the happiest people." This is a false claim. As explained in a fact check from January 6, Pence does not have the power to reject slates of electors: