From Election Conspiracies to Armed Mob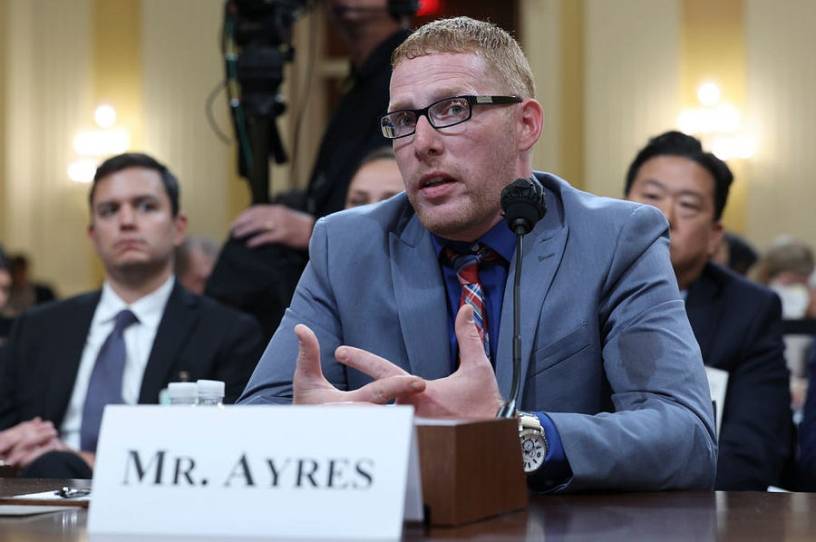 When the House select committee investigating January 6 convened two weeks ago, the public heard what was arguably the most important testimony of the investigation thus far. Former White House aide Cassidy Hutchinson described her recollections of Donald Trump's unhinged behavior leading up to and during the events of January 6, 2021, which included riling up a mob he knew in advance was armed and dangerous—behavior his closest advisers were largely ineffective at restraining, even when they tried. 
Not every congressional hearing can be quite as revealing, and Tuesday's took a more modest tack. Committee members reviewed what the public hearings have covered so far and previewed their plans for next week's hearing, buttressing their case with new details and the compelling personal testimony of Stephen Ayres, a member of the mob that stormed the Capitol, and Jason Van Tatenhove, a former Oath Keepers associate. Committee vice chair Rep. Liz Cheney said the evidence presented suggests that former President Donald Trump was "substantially and personally" involved in the plot to overturn the 2020 election results and prevent the peaceful transfer of presidential power.
On December 14, 2020, the 538 members of the Electoral College met separately in each of the 50 states and cast their votes. For most of the Trump administration, that day marked the end of the road: They had lost, and it was time to prepare for whatever came next. Then-Labor Secretary Eugene Scalia told the committee in video testimony that he told Trump to concede on December 14. In tape of his deposition, Trump's White House counsel, Pat Cipollone, said he agreed with Senate Majority Leader Mitch McConnell's public comments the next day, December 15, when McConnell congratulated Joe Biden as "president-elect." Other advisers shared similar sentiments. According to Cipollone, even Chief of Staff Mark Meadows was insisting around late November that Trump would make a graceful exit.
Trump disregarded this chorus of voices. As has been reported previously, Trump met in the Oval Office on December 18 with conspiracy-pushers, including Rudy Giuliani, Sidney Powell, and Patrick Byrne. One idea the group discussed involved a draft executive order—excerpts of which the committee displayed Tuesday—directing the secretary of defense to "seize, collect, retain and analyze all [voting] machines" and allowing for the presidential appointment of a special counsel to "institute all criminal and civil proceedings as appropriate." This was, in Cipollone's recorded words, a "terrible idea."