Glenn Youngkin Makes A Kitchen Table Pitch to Virginians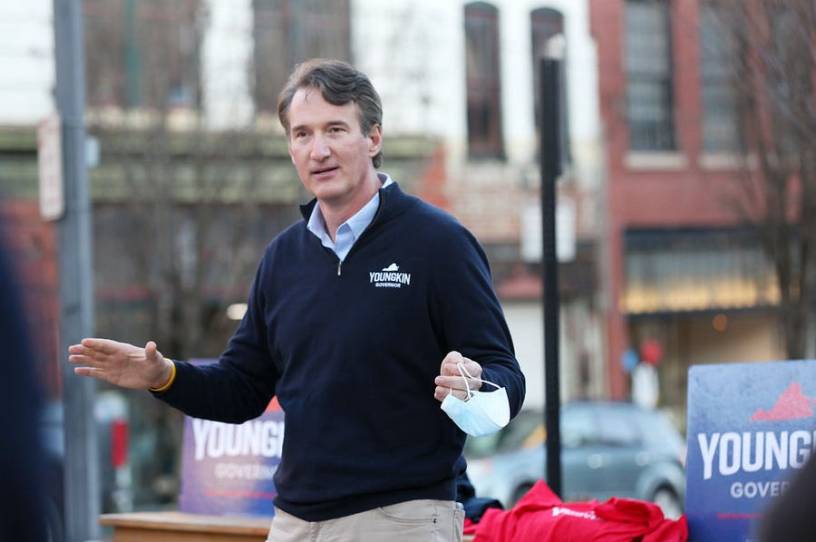 DUMFRIES, Virginia—"For the last 15 weeks, I've traveled nearly 26,000 miles. I've had a chance to visit with tens of thousands of Virginians and what I've heard over and over again, over and over, is a sense of frustration, anger, but also hope and optimism," Virginia Republican gubernatorial nominee Glenn Youngkin told a crowd of rally attendees last Monday. 
Youngkin, who won the Virginia GOP's nomination on May 10, is gearing up for an expensive and hard-fought race against likely Democratic nominee Terry McAuliffe, Virginia's former governor who is expected to win his state party's primary on June 8. 
The first-time GOP candidate may have boatloads of cash—conservative estimates put his net worth at more than $200 million—but the odds are against him: No Republican has won a statewide race in Virginia in 12 years. 
That said, election analysts are quick to point out that Virginia Democrats have two big hurdles to overcome this fall. One, Donald Trump is no longer in the White House. "There is not a Trump tailwind for the Democrats to ride anymore," said Chaz Nuttycombe, director of CNalysis, a forecasting group that specializes in Virginia races and state legislative elections. "They would not have the trifecta, which is the House of Delegates, State Senate, and governor, if Trump lost in 2016."
Keep reading with a free account
Create a free Dispatch account to keep reading
Get Started
ALREADY HAVE AN ACCOUNT? SIGN IN