House Democrats' Rashida Tlaib Problem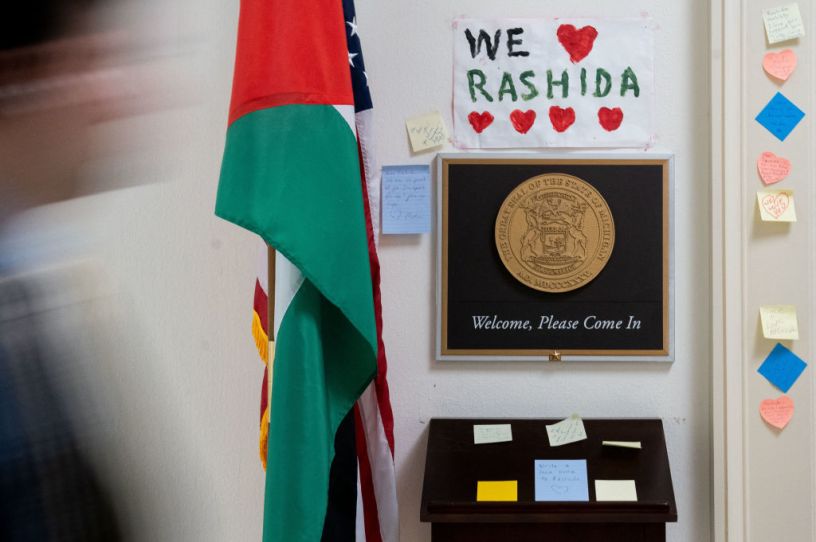 Signs and notes left outside the Capitol Hill office of Democratic Rep. Rashida Tlaib in Washington, D.C., on November 8, 2023. (Photo by STEFANI REYNOLDS/AFP via Getty Images)
When the House of Representatives voted to censure progressive Rep. Rashida Tlaib on Tuesday, only 22 of the congresswoman's fellow Democrats crossed the aisle to support the Republican-backed resolution. But Democratic anger at the lawmaker from Michigan over her comments about the Israeli-Palestinian conflict—culminating in a video she created and shared recently that accuses President Joe Biden of having "supported the genocide" of Palestinians—extends well beyond the relatively small group.
"She's pissed a lot of her colleagues off," said a veteran Democratic strategist who requested anonymity to speak freely. "She was well-liked when she got to Congress. A lot of people don't like her anymore."
The video, which features shots from pro-Palestinian protests across the country, includes demonstrators chanting "from the river to the sea," a phrase that is widely interpreted as a call for the destruction of the Jewish state of Israel. Though Tlaib herself has since insisted she meant it as an "aspirational call for freedom, human rights, and peaceful coexistence, not death, destruction, or hate," groups like the Anti-Defamation League and others have deemed the slogan antisemitic. Dana Nessel, Michigan's Democratic attorney general, said the phrase is "hurtful," "cruel," and "hateful."
Many of Tlaib's Democratic colleagues in Congress agree with those latter assessments—but they're treading cautiously. When asked about Tlaib accusing Biden of supporting genocide, Sen. Debbie Stabenow, a Michigan Democrat, told The Dispatch the video is "very unfortunate" and that she disagrees with Tlaib's statement. Rep. Pete Aguilar, the chairman of the House Democratic Caucus, also told reporters Tuesday that he "strenuously disagrees" with the comments and the video, though he voted against the censure resolution.
You're out of free articles
Create an account to unlock 1 more articles