How Mike Ditka Changed Football Forever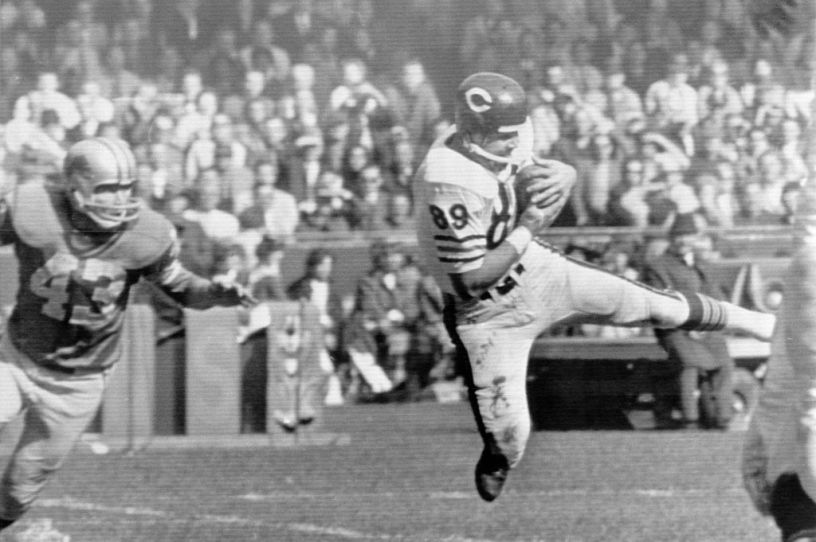 Chicago Bears tight end Mike Ditka (89) comes down with a touchdown pass. (Photo by © Bettmann/CORBIS/Bettmann Archive/Getty Images.)
The following is an adapted excerpt from Chapter 1, "The Blueprint," of The Blood and Guts: How Tight Ends Save Football by Tyler Dunne. You can order Blood and Guts on Amazon and everywhere books are sold. It's reprinted with permission from Twelve Books/Hachette Book Group.
Mike Ditka is exactly where he should be. A living legend in the heaven on earth he deserves. Enter the clubhouse of Olde Florida Golf Club in Naples, veer left, and of course Ditka's relaxing with a cigar in his hand. He stares off at his course through the window. Back when he cofounded it in 1992, Ditka had one simple request: "No bullshit." That is, no golfers can dilly dally. Everyone must keep moving, hole to hole, because you're here to golf, dammit. Not screw around. Fast greens on rolling terrain reflect this vision.
He sets the cigar in an ashtray, and his friends migrate to a nearby table for another game of gin.
The patriarch of pain in football is obviously hurting at age eighty-two. There's a walker within arm's reach and, when he tries to scoot in his chair over to chat, it's a struggle. Forged in the steel town of Aliquippa, Pennsylvania, "Iron Mike" has been one of the sport's most indestructible forces from player to coach to commentator, and now this room serves as the twilight of his extraordinary life. Ditka brushes off help from others, notes that he's had "four or five" hip replacements and leaves it at that. "I can't complain," he says. No use listing all the permanent wounds this sport inflicted when these wounds, to him, were always part of the deal. Those legendary hands that caught 427 passes and mauled linebackers for twelve bruising pro seasons are weathered. Mounds have swollen over the knuckles on the index and middle fingers of his right hand.