How the GOP Can Make Childbirth Affordable Without Breaking the Bank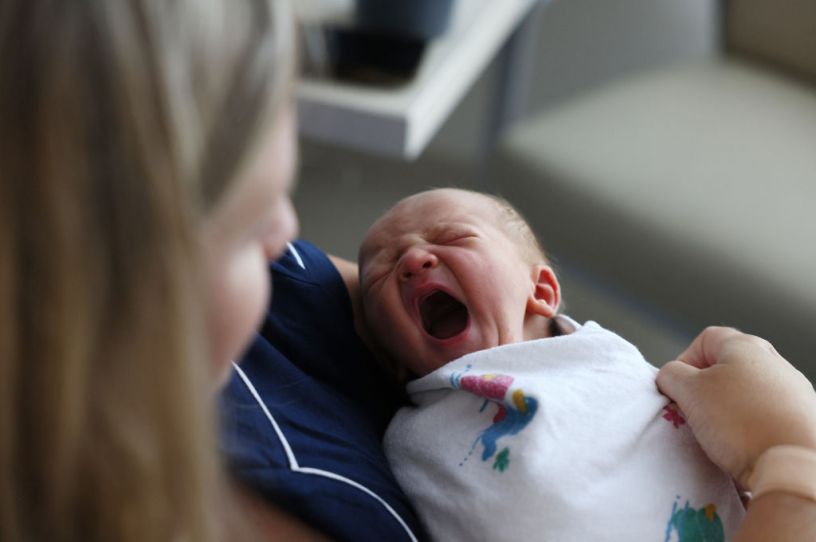 A newborn yawns as he sits with his mother at Emerson Hospital in Massachusetts. (Photo by Jessica Rinaldi/Boston Globe/Getty Images.)
In the wake of the Dobbs ruling that overturned Roe v. Wade, Republicans have faced the perennial criticism that the party was merely "pro-birth," not pro-life. Abortion advocates pointed out that economic concerns—the fear of lacking the financial means to raise a child or feeling like a child would keep a family in poverty—are among the top reasons women cite for seeking abortions. If you want all these babies to be born, the thinking goes, what are you going to do to help their mothers?
The pro-life movement can rightly point to a long list of social services it provides for expectant moms, but the wake of the Dobbs decision has reiterated the need for a bolder political approach. A truly pro-life, pro-family GOP should better address the financial strains facing new parents and improve health outcomes for mothers and babies, and some lawmakers have offered proposals that deserve widespread support.
Since Dobbs, one idea that has been proposed by the left and the right is to "make birth free." But a better way to address the financial risk for parents is by expanding Medicaid eligibility for pregnant mothers and making health insurance coverage for maternity care more user-friendly and less expensive.
It is certainly true that working- and middle-class families can find themselves under financial pressure when welcoming a new addition. A recent Kaiser Family Foundation analysis found new parents pay an average of $2,854 in out-of-pocket costs associated with pregnancy and childbirth, and a 2020 Health Affairs paper found that out-of-pocket expenses for maternity care rose 48 percent from 2008 to 2015. That increase was driven largely by increasing deductibles, not an increase in the actual cost of care, meaning that patients were increasingly responsible for shouldering the cost of having a child.