How the West Must Handle Lukashenko's Threat to the International Order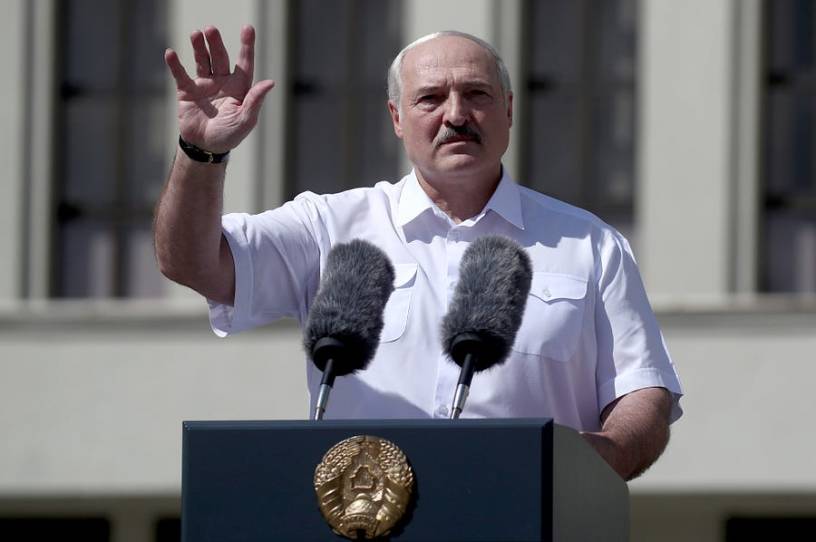 Alexander Lukashenko's 27 years in power in Belarus have been marked by murder, brutality, and repression. Most of the international community deems him illegitimate, especially after his efforts to steal last August's presidential election. Now Lukashenko, the head of Europe's last dictatorship, has written a new chapter in the authoritarians' playbook titled "State Sponsored Air Piracy and Hijacking."  
On Sunday, Lukashenko ordered a military aircraft to intercept a commercial airliner as it flew over Belarus' airspace and forced it to land on the pretext that there was a bomb aboard.  On the Ryanair flight passenger manifest from Athens to Vilnius Sunday was Roman Protasevich, a prominent Belarusian journalist and founder and former editor-in-chief of the popular Telegram channels Nexta and Nexta Live, and his Russian girlfriend. Lukashenko had been pursuing Protasevich as a "terrorist"—a trumped up charge that merely acknowledges his criticism of the regime.  
Belarusian and/or Russian agents—and the exact Russian role here is fuzzy, but the two countries' spy agencies work closely together—had tracked Protasevich at the airport in Athens and on board the flight. They, in turn, alerted the security forces in Minsk that Protasevich was on board, along with his Russian girlfriend. As the plane flew over Belarusian airspace, Belarus air traffic control authorities notified the pilots about a possible security threat on board—there was no such threat—and directed the pilots to land in Minsk. In effect, the Belarusian state hijacked the plane. Pratasevich and his companion, Sofia Sapega, were immediately arrested and taken away by the authorities. 
On Sunday, Lukashenko clearly crossed a line into a new form of state-sponsored terrorism that presents an enormous challenge to the rules-based international order.  Anything less than a condign punishment by the international community will surely encourage other authoritarian leaders —Erdogan, Putin, Xi, etc.—to carry out similar acts of air piracy to repress human rights and democracy activists in the future. This would build on a growing trend of transnational repression of dissidents that has been shockingly documented by Freedom House over the past year.   
You're out of free articles
Create an account to unlock 1 more articles