I Ignored Baseball for Decades. Here's What It Meant to Me This Year.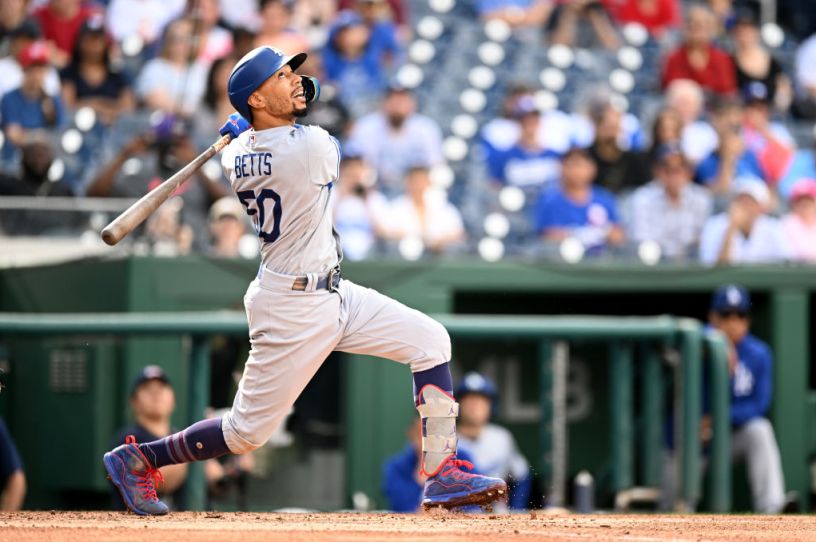 Mookie Betts of the Los Angeles Dodgers bats against the Washington Nationals at Nationals Park on September 10, 2023 in Washington, D.C. (Photo by G Fiume/Getty Images)
One of my happiest childhood memories is watching Kirk Gibson's astonishing, improbable game-winning home run in the bottom of the ninth inning in Game 1 of the 1988 World Series. I was born outside of Los Angeles; the Dodgers had always been my team. I remember the image of Gibson pumping his fist as he rounded the bases, limping on two bad legs, and the sounds of delirious pandemonium in Dodger Stadium.
But I also remember, even more vividly and happily, my dad and my two brothers and I jumping and hollering in our living room as we watched the impossible happen.
I played five seasons of little league baseball with my brothers. I was terrible; I got maybe three hits in five years. I alternated between outfield and catcher. I was a decent outfielder until my eyeglass prescription could no longer keep pace with my deteriorating eyesight. It was hot, I spent most of those years on the bench, and the uniforms were scratchy and ugly. I didn't even understand some of the arcane rules, like the infield fly rule.
And I wouldn't trade the experience for anything. I cheered my brothers on. My dad watched every game. (He umpired once and earned instant notoriety when a batter swung and missed—and he called it a ball.) I got my name in the local paper when I hit a double (one of my three hits). Every morning we hurried to get the paper off our doorstep to check box scores of last night's big league games—just a few years before the internet destroyed local papers and the box score forever.
You're out of free articles
Create an account to unlock 1 more articles