I Think You Should Watch 'I Think You Should Leave'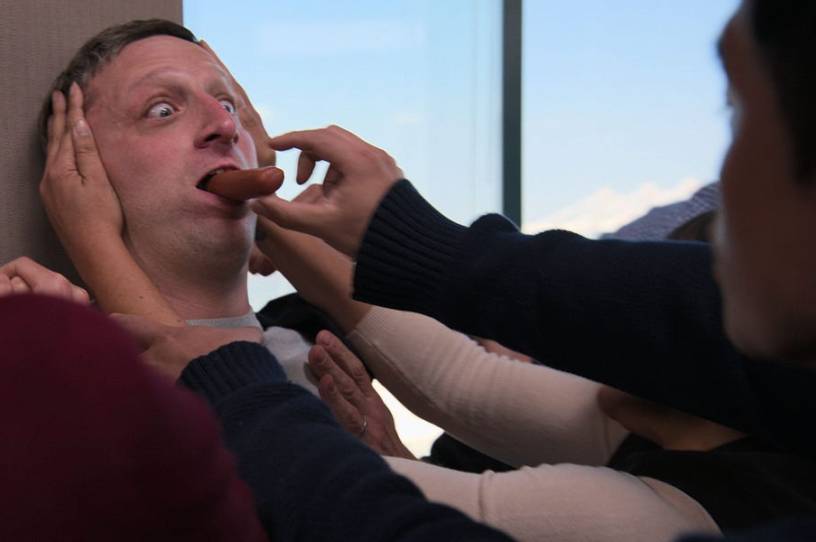 Fifty-three seconds into Season 2 of I Think You Should Leave (ITYSL), Tim Robinson—the show's star and co-creator, alongside Zach Kanin—is sitting around a boardroom table, trying to discreetly suck a jumbo hot dog out of his jacket sleeve. It only gets weirder from there.
But in today's reality—two billionaires are racing each other to space on their private rockets, one in five Americans refuse to get life-saving vaccines against a virus that has killed more than half a million of their countrymen, a game show host just wrapped up a stint as president—humor that fails to stretch absurdity to its breaking point doesn't much move the needle.
When Robinson's ITYSL debuted on Netflix in April 2019, it was an oasis in a sketch comedy desert. Tim Heidecker and Eric Wareheim's Tim and Eric Awesome Show, Great Job! ended in 2010, and Keegan-Michael Key and Jordan Peele's Key & Peele had been off the air nearly four years. Saturday Night Live was still around, but the Trump era was not kind to it: Most episodes—with a few exceptions—devolved into little more than a laugh track set to celebrities reenacting the nightly news.
"Trump is a bad subject for comedy," Jesse David Fox wrote for Vulture. "He's shallow and played out." That was in 2017.