In Defense of the Real Adam Sandler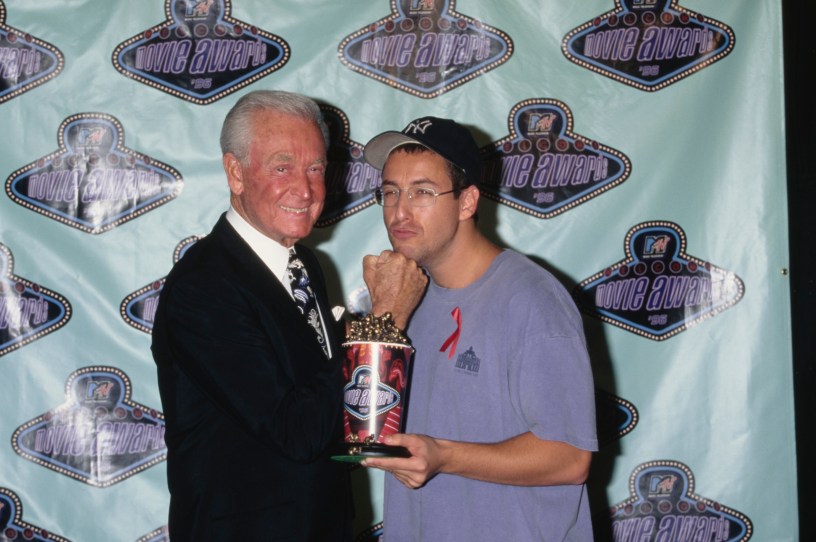 (Bob Barker and comedian Adam Sandler at the 5th Annual MTV Movie Awards. Photo by Vinnie Zuffante/Michael Ochs Archives/Getty Images)
On March 19, the John F. Kennedy Center for the Performing Arts will present Adam Sandler with their twenty-fourth Mark Twain Prize for American Humor. The award celebrates individuals who have, in the mold of Twain, entertained and informed the country through their comedy. Previous recipients of the Mark Twain Prize include such great comedians as Richard Pryor, Bob Newhart, Steve Martin, Billy Crystal, Tina Fey, Carol Burnett, and Sandler's idol, Eddie Murphy.
"Adam Sandler basks in the adulation that comes with doing some real acting for a change," read a recent entertainment news headline. Underneath is a brief story about how Adam Sandler has supposedly moved away from his comic "man-child persona" of the past thirty years and "into a brave new era of the star and producer becoming an acclaimed character actor." The article acknowledges Sandler's occasional dramatic turns in films like Punch-Drunk Love and The Meyerowitz Stories but points to his starring roles in Uncut Gems in 2019 and Hustle in 2022, along with his Screen Actors Guild nomination for the latter, as a sign of Sandler's finally coming into his own as a "real" actor. The piece wraps up by saying the publication is glad to see Sandler "tackle meatier roles as his career moves forward into an exciting new chapter."
Though most film critics might word their opinions differently, that little article agrees with the critical consensus on Adam Sandler: As a movie star and comedian, Sandler makes dumb comedies for popular audiences seeking mindless fun and cheap laughs. He can be a good, even great, actor when he wants to be, in other filmmakers' movies, but when he is producing and starring with Happy Madison or similar companies—except for an initial short run from 1995 to 1999 of universally loved raunchy comedies and the recent well-received Hustle—Sandler's films as a rule are lazy, consist of vacationing with his friends, and have nothing important to say. In short, they are fun trash. His stand-up comedy occasionally has something to offer, though mostly for nostalgic reasons. The critics and agreeing cinephiles on Rotten Tomatoes, Letterboxd, and IMDb constantly trash Sandler's movies, and the film awards organizations rarely, if ever, see fit to recognize him.
Beyond the arena of critics and cineastes, however, are a number of less vocal people who feel Sandler's body of work actually does offer something worthwhile. Many respected actors have regarded Sandler highly and enjoy working with him in his "dumb" comedies, including such impressive names as Kathy Bates, Steve Buscemi, James Caan, Salma Hayek, Al Pacino, and even the notoriously selective Jack Nicholson. A 2019 "Actors on Actors" with Brad Pitt and Adam Sandler even sees Pitt gushing about Sandler's acting, not in his serious roles—like Uncut Gems, which they were there to discuss—but rather in his popular comedies. In that conversation, Pitt echoes the famous sentiment "dying is easy, but comedy is hard." Many of America's best comedians like Arsenio Hall, Norm Macdonald, Don Rickles, Chris Rock, and Damon Wayans have loved and supported "The Sandman" just as wholeheartedly, and more