Justin Amash Made His Decision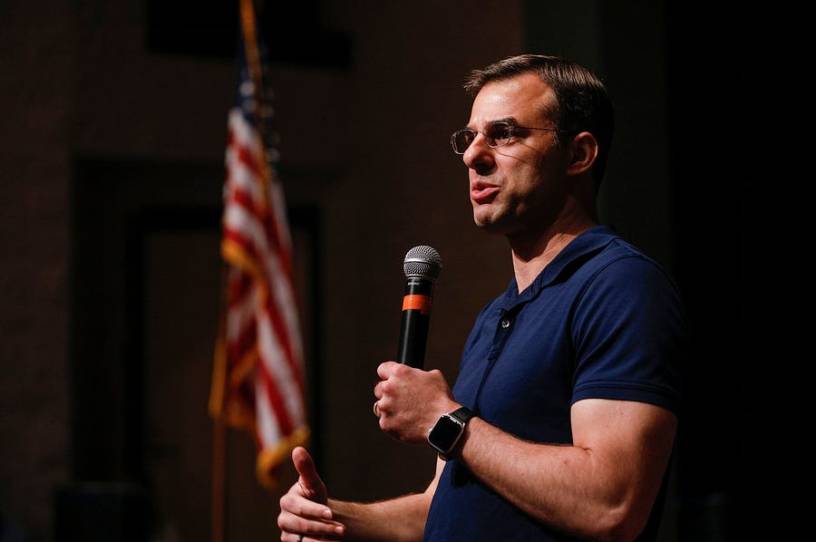 Justin Amash is (probably) running for president. He's toyed with the idea for over a year: Describing himself as an ideal third-party candidate at libertarian conferences, posting cryptic tweets about Americans "deserving another option," repeatedly refusing to rule out a campaign whenever reporters asked. But the months dragged on—the Libertarian party held primary after primary, debate after debate—and Amash remained an onlooker. Pundits began to speculate his flirtation with a national campaign was a ploy to boost fundraising for the increasingly uphill challenge he was facing at home.
But at precisely 8 p.m. on Tuesday, a new Twitter account—@amashforamerica—was born, breaking the news via Nintendo Super Smash Bros. meme that a new candidate had arrived on the scene.
Technically, Amash launched an exploratory committee—a vehicle through which candidates can test the waters before officially taking the presidential plunge—but he's already done plenty of exploring. "Americans are ready for practical approaches based in humility and trust of the people," he wrote. "We're ready for a presidency that will restore respect for our Constitution and bring people together. I'm excited and honored to be taking these first steps toward serving Americans of every background as president."