Maricopa County Audit Tests an Already Fractured Arizona GOP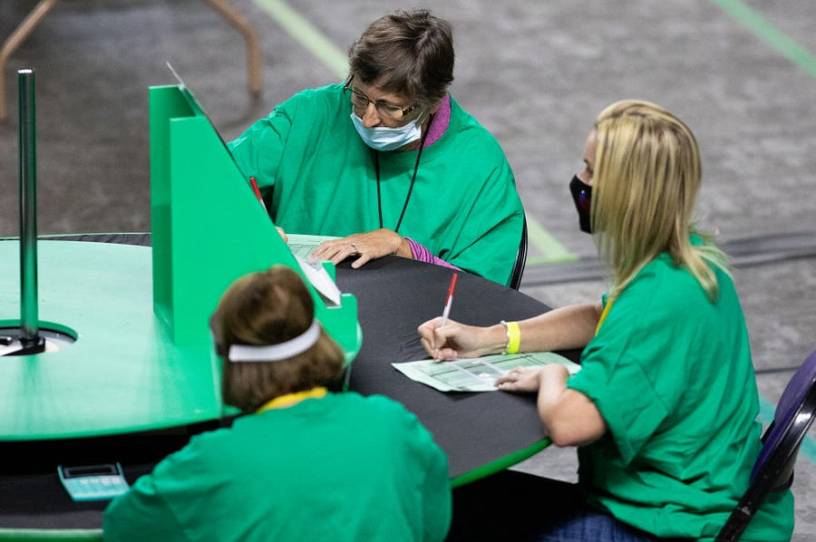 PHOENIX—In the parking lot outside the Arizona Veterans Memorial Coliseum last Thursday, a small group of Arizona Rangers were chatting under a flimsy white tent as the sun beat down on the asphalt. As he fiddled with the outdoor fan underneath the tent, a lead member of the security team jokingly asked the Arizona Rangers how he could tone down the afternoon's 106 degree dry heat. "A 35-foot airstream—have Donald Trump bring one down for us," a mustachioed Ranger named Terry teased in response. 
The Arizona Rangers—a nonprofit organization of volunteer law enforcement officials whom one Arizona state trooper called "glorified security guards"—take their jobs very seriously. They guard the Arizona Veterans Memorial Coliseum, a saddle-shaped indoor arena located on the state fairgrounds, where since late April Republican organizers have been hand-counting the 2.1 million ballots that Maricopa County voters cast in the 2020 election.
Rangers spend their shifts directing audit volunteers into a cordoned-off area of the parking lot and escorting reporters to the press box inside the building. They enjoy teasing members of the press: On three separate occasions, I was asked by security personnel why I bothered to cover the "audit" in-person when I could simply watch the live stream online at azaudit.org.
For all their chest-puffing, the real power lies with Randy Pullen, former chairman of the Arizona Republican Party and treasurer of the Republican National Committee. Pullen now serves as the Maricopa County audit liaison alongside fellow audit spokesman Ken Bennett, who previously served as president of the Arizona Senate and secretary of state of Arizona. (Bennett did not respond to multiple requests for an interview.)