Mike Pence's 2024 Gamble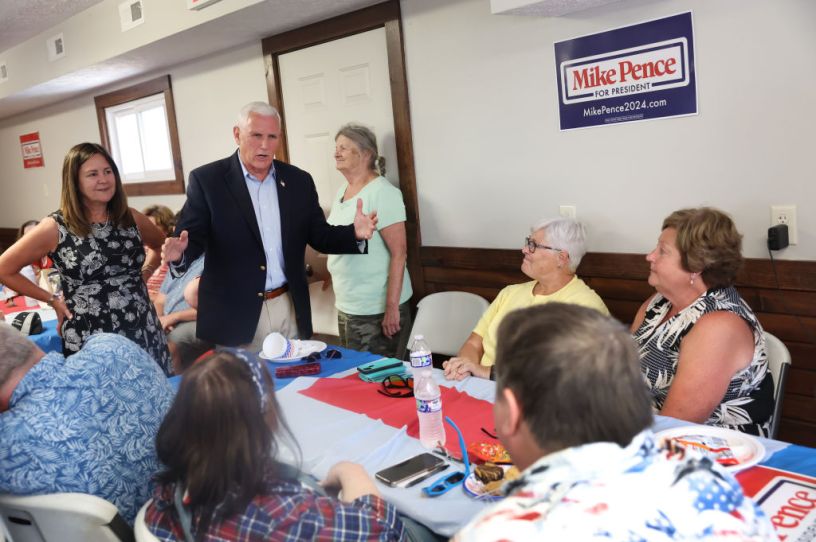 Former Vice President Mike Pence and his wife Karen Pence speak to guests during a campaign event in Iowa on July 6, 2023. (Photo by Scott Olson/Getty Images)
SIOUX CITY, Iowa—Don't look now, but at the moment former Vice President Mike Pence is becoming the most interesting candidate for president. 
It's understandable if that's hard to fathom. Donald Trump has far more star power than his former running mate, along with leads in every national and early state primary poll. Those same polls show Gov. Ron DeSantis in a far better position to challenge Trump. And rivals like former Gov. Chris Christie and businessman Vivek Ramaswamy are doing a better job grabbing media attention than Pence, who has never been known for his charisma.
Yet Pence is doing something unusual, even radical, within the 2024 GOP field: He's running as a movement conservative, a traditional Republican, and an experienced politician in a party whose recent history suggests little appetite for any of that. But the Pence campaign has challenged the conventional wisdom: What if the party isn't really all that enthralled by Trump and Trumpism?
"I'm running because the things that I've always been about, the things that our administration was about, I'm going to continue to be about," Pence tells The Dispatch in Sioux City. "American leadership in the world, fiscal responsibility and reform, the right to life. And frankly, the [former] president is walking away from those things overtly, and others are walking away from it. And I'm going to continue to stand on the conservative ideas and values that I've always stood on, and give Republican voters a choice."
You're out of free articles
Create an account to unlock 1 more articles