Nigerian Protests Call Attention to a Culture of Corruption and Abuse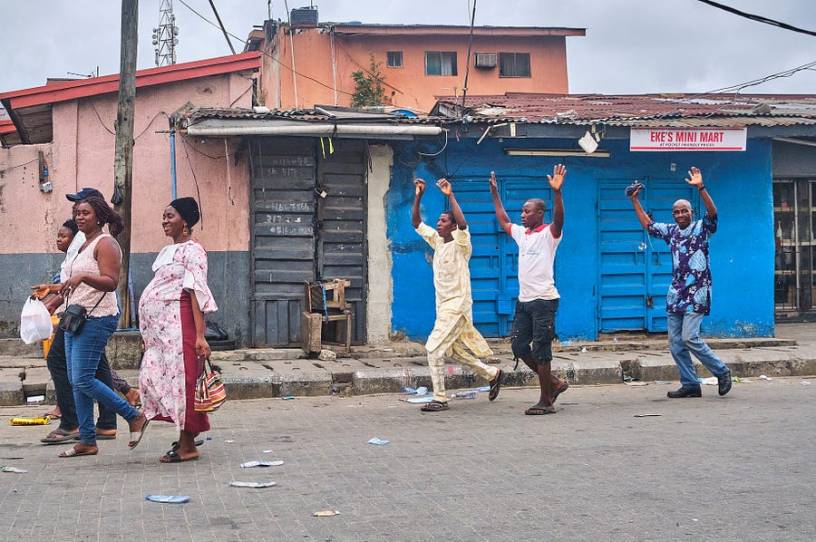 Sixty years ago to the month, Nigeria broke free from the United Kingdom after 160 years of imperial rule. But the legacy of wealth and resource extraction by the British political elite lingered in the several waves of governance that followed. Now—more than 20 years after Nigeria set about establishing a multiparty democracy—widespread protests, and the sitting government's brutal crackdown in response, expose how very far there is still to go. 
Protests against police brutality erupted after social media circulated reports of an unarmed youth shot and killed by a police officer. The officer was with the Special Anti-Robbery Squad (SARS), a force that stokes terror among Nigeria's civilian population through torture and extrajudicial killings. The protests, which began in Lagos, have expanded to a nationwide call to end the country's governmental corruption and mismanagement, crippling economic stratification, and rampant human rights abuses. When Nigerian soldiers opened fire on peaceful protesters at Lekki Toll Gate on October 20, the international community also joined the movement.
Though estimates vary dramatically, Amnesty International reports that at least 12 individuals were killed during the Lekki massacre. The government still refuses to admit its role in the shootings. Rihanna took to Instagram and Twitter the following day to share her support and condolences for the victims. Beyoncé also spoke out: "I am heartbroken to see the senseless brutality taking place in Nigeria. There has to be an end to SARS." Actress Gabrielle Union shared a protester's Instagram livestream of the night's events, using the now-viral hashtag—which was first used in late 2017—#EndSARS. 
Although this rallying cry has garnered unprecedented attention over the course of October, police brutality is not new to Nigerians. John Campbell, a former U.S. ambassador to Nigeria, explained how the harsh tactics used in Nigerian policing have their roots in British colonialism. "The Nigerian police service, like the Nigerian army, was established under the British. They were both designed to control the population, not to protect the population. This dates back to long before independence," Campbell said. "Independence, essentially, brought no change. And whether the government is military or civilian—the army, police, and other security services are primarily concerned with protecting the regime in power."