Our First Steps Into the Infinite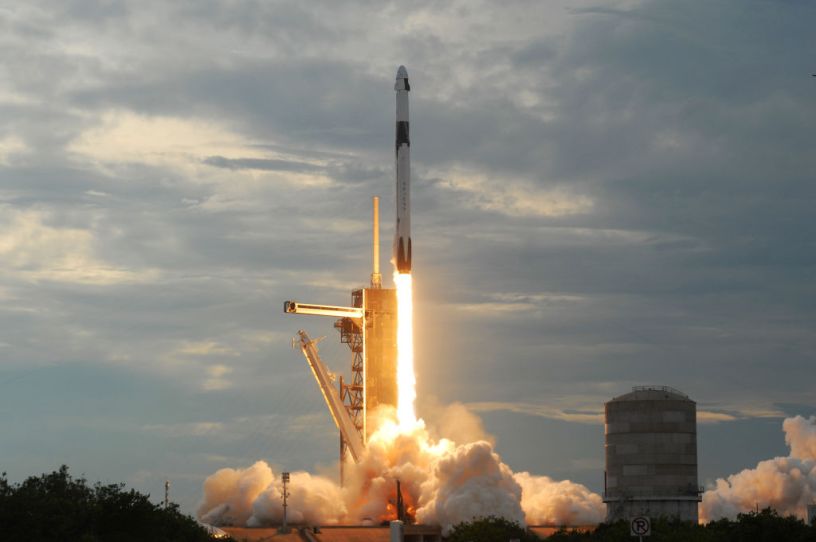 A SpaceX Falcon 9 rocket with the Crew Dragon spacecraft lifts off from pad 39A at the Kennedy Space Center for the Axiom Space Mission 2 on May 21, 2023, in Cape Canaveral, Florida. (Photo by Paul Hennesy/Anadolu Agency/Getty Images)
What's the story of our era that will be remembered in a thousand years? It won't be the creation of the modern mobile phone or the rise of social media. Nor will it be the unlikely election of a vulgar property magnate, Russia's invasion of Ukraine, or "woke" corporations. The rise of computer intelligence, the invention of gene editing, and the development of nuclear fusion are up there. But the most likely candidate? The rise of private space travel.
As we go about our day-to-day lives, billionaires flinging rockets into space seems largely irrelevant, particularly compared to whatever latest developments have occurred in the political world and economic markets. Yet politicians are getting better intel than ever from new satellites, fired into orbit at a faster-than-ever rate courtesy of SpaceX and Rocket Lab. Investors use imagery from Planet Labs satellites to predict changes in oil prices, and farmers use it to monitor their coffee plants. When you flip open—or scroll though—the New York Times and see aerial photos of obliterated Ukrainian towns, they're from those same satellites. Which are made by hippies living in a Los Angeles commune, sent up by a New Zealand rocket company founded by a frizzle-haired nerd who never went to college. The explosive follies of these dreamers, billionaires, and hard-working space nerds could eventually make us an interplanetary species. In the meantime, they are fundamentally changing the way we live, even if we're not actively aware.
That's the topic of Ashlee Vance's When the Heavens Went on Sale; a thrilling, hilarious romp through this new space economy. While Musk's SpaceX opens the book, and Jeff Bezos' Blue Origin and Richard Branson's Virgin Galactic make cameos, Vance focuses on the lesser-known founders and companies, and they more than meet Musk's standard for technical ambition and personal eclecticism.
There's the perpetually spontaneous "space hippy" Will Marshall; the Kiwi engineering-wiz-turned-mad-scientist Peter Beck; the smooth-talking Chris Kemp and laconic Adam London; the providence-driven rocket scientist, Tom Markusic, and his whiskey-downing Ukrainian internet billionaire sponsor, Max Polyakov; and the grouchy elder statesman Pete Worden, who constantly clashed with his bureaucratic NASA superiors and made much of this industry possible. They each get their own section of the book, which seems readymade for an HBO adaptation.