Ron DeSantis' Summer Doldrums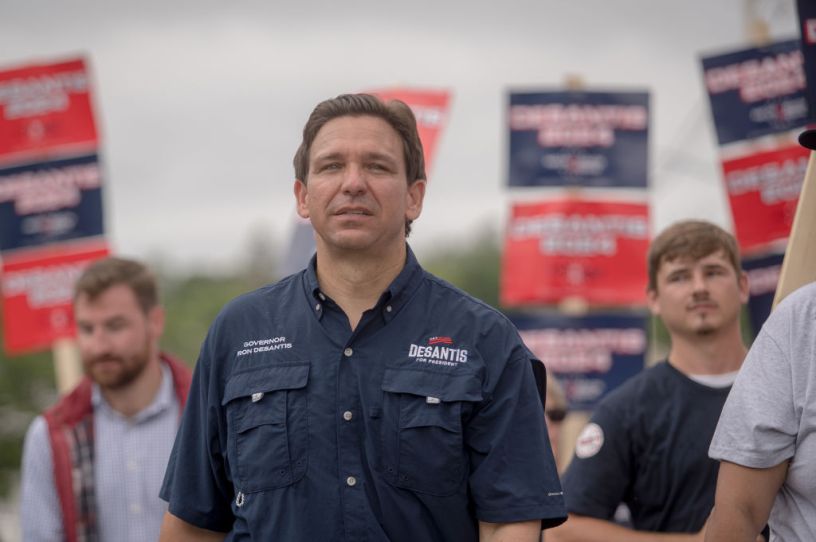 Florida Gov. Ron DeSantis and his family take part in the Fourth of July parade in Wolfeboro, New Hampshire. (John Tully for The Washington Post via Getty Images)
What began as a sop to satisfy concerned supporters of Ron DeSantis' presidential bid has turned into a major campaign shakeup and a blunt acknowledgment that the Florida governor's quest for the Republican nomination is in trouble.
Last week, the DeSantis campaign jettisoned nearly one dozen paid staff, with two senior advisers departing voluntarily. For a struggling candidate not raising enough money to afford his bloated campaign, these minor reductions left both DeSantis critics and worried supporters mystified. Meanwhile, changes in messaging strategy were minimal: Rather than talk only to friendly conservative journalists, the governor vowed to play ball with so-called hostile mainstream media outlets.
But campaign officials, led by DeSantis himself, spent the ensuing days mulling whether these adjustments were substantial enough. Their answer was "no." And so by the close of business Tuesday, the DeSantis campaign had sacked a total of 38 full-time staff and contractors across all sectors, including the much ballyhooed, in-house digital "marketing department." But there was more.
The DeSantis campaign emphasized this week it's also changing its messaging strategy. Out: framing his proposed White House agenda by discussing accomplishments in Tallahassee. In: presenting his plans for the presidency in future-oriented detail. In other words, less "here's what I've done" and more "here's what I'll do." Also, the campaign is scrutinizing the governor's travel practices to find more cost savings.
You're out of free articles
Create an account to unlock 1 more articles