Social Justice for Me, Not Thee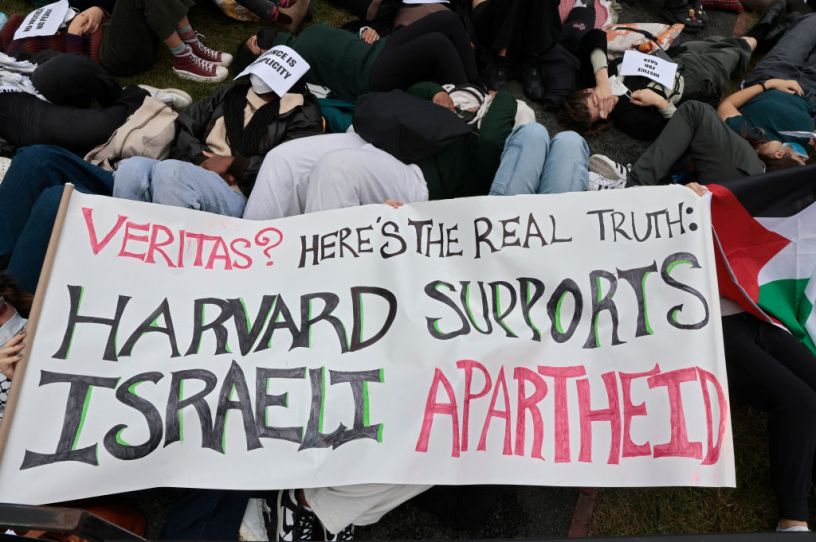 A pro-Palestinian protest of Harvard students on October 18, 2023. (Photo by Pat Greenhouse/The Boston Globe via Getty Images)
In the weeks following the largest killing of Jews since the Holocaust, a chilling double standard has emerged on campuses across the country. At Columbia, which endeavors to center "diversity, equity and inclusion" in "all interactions with individuals, organizations and communities that we serve," an Israeli student was allegedly beaten with a stick by a 19-year-old woman who was tearing down posters of hostages taken by Hamas.
At George Washington University, where the supposedly insensitive "Colonials" mascot was recently dropped, students projected anti-Israel messages onto a campus library, including "Glory to our martyrs."
At a "die-in" protest at Harvard, a law student and a divinity school student—the latter of whom serves as a proctor mentoring undergraduates, a role that Harvard calls "crucial … in building a safe, healthy and inclusive environment for all first-year students"—accosted an Israeli business school student as surrounding protesters shouted "SHAME."
Many college students and professors at elite universities like to fashion themselves as proponents of social justice. But since Hamas' October 7 attack on Israel, this righteous self-branding has hit a sinister inflection point. It raises the question: How can so many so-called "progressives" give the Hamas attacks a moral pass while screaming inclusion from the rooftops?
You're out of free articles
Create an account to unlock 1 more articles