'Something Quite Peculiar': Donnie Darko at 20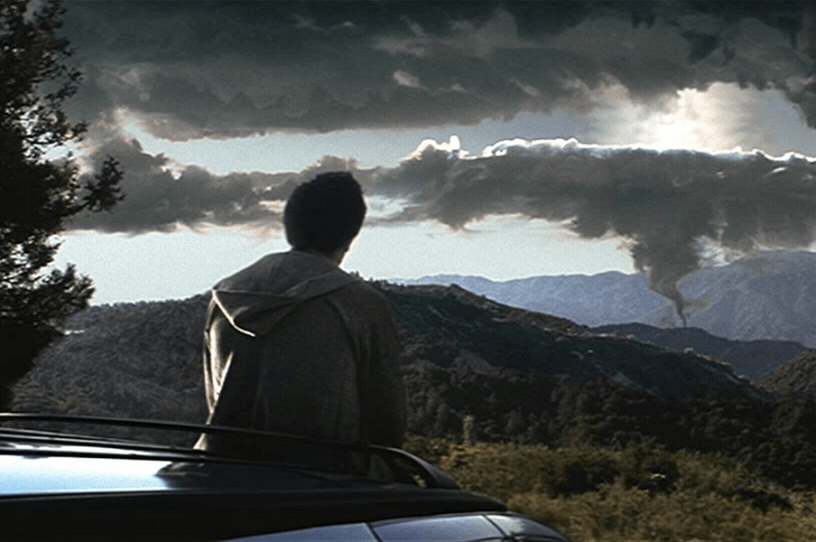 "Do you believe in time travel?" the demonic, 6-foot-tall rabbit asked the shy high school boy. This isn't an excerpt from some bizarre reimagining of Alice in Wonderland, but a pivotal moment in one of the most enchanting films released so far this century. Despite the passage of time, Donnie Darko, writer-director Richard Kelly's first feature, remains unique for its combination of nostalgic Americana, surreal science fiction, and deep humanity. Twenty years after its release, the film's cult following has never been more feverish, and it continues to resonate profoundly within popular culture for its universal themes.
Fundamentally, Donnie Darko is about youth. Its titular, 16-year-old protagonist is a mess of jumbled hormones and emerging interests. Obsessed with sex, unfulfilled by his surroundings, and troubled by a newfound concern with existential questions, he embodies the myriad insecurities and aspirations of adolescence. The opening scene finds him asleep on a vacant road as the sun rises; he's been sleepwalking and is taking medication for an undisclosed mental illness. He slowly regains consciousness, and cycles home through idyllic suburban streets to the tune of Echo and the Bunnymen's "The Killing Moon," like in an ominous music video.
Later that evening, Donnie argues with his sister, lashes out at his mother, and retreats to his room. That night, his nocturnal wanderings lead him to a golf course, where he seemingly dreams an encounter with Frank, a figure in a grotesque rabbit costume who warns him that the world will end on Halloween. When he returns home the next morning, he finds his bedroom has been destroyed by a downed jet engine of mysterious origins. He subsequently begins experiencing terrifying hallucinations and odd coincidences that suggest Frank's apocalyptic prediction might actually be true. Donnie, it turns out, has been chosen to save the world, and the film follows him on his quest. But how can he accomplish such a task when he can barely make sense of his own existence? 
Donnie's search for meaning occurs against the backdrop of the 1988 presidential election. His internal restlessness is overpowered by the sun-drenched optimism of middle America in the final days of Reagan, where those around him are most concerned with traditional values and tax rates. Kelly distinguishes his film by juxtaposing ordinary teenage experiences in a comfortable environment with nightmarish imagery. When Donnie takes his first love, Gretchen, on a date to the movies, Frank appears to project an unsettling vision of the future onto the screen. Lingering on the outskirts of Donnie's quaint Virginia town is "Grandma Death," a demented elderly woman whose presence haunts the idle moments he spends outside with friends. Kelly's America is equally informed by the warmth of Stephen Spielberg and the strangeness of David Lynch. By merging the unreal with the familiar, he captures the emotional confusion of adolescence.