South Africa Looks East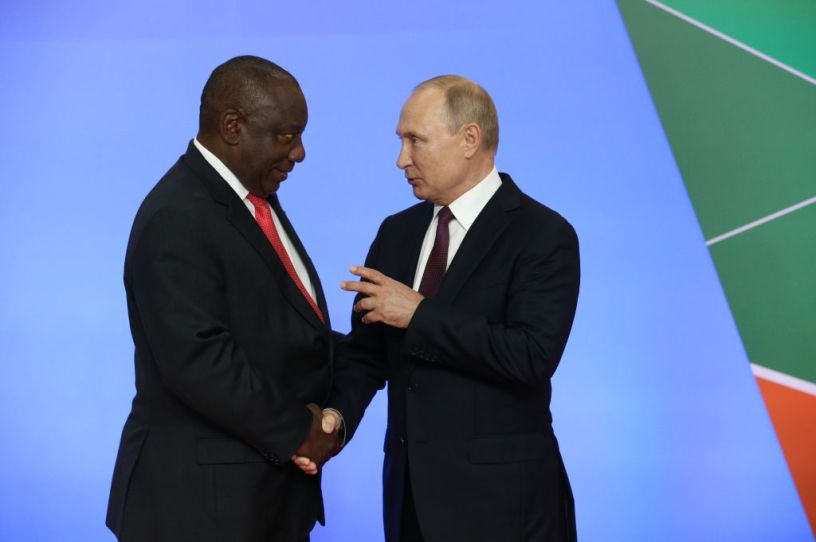 South African President Cyril Ramaphosa greets Russian President Vladimir Putin during the welcoming ceremony at the Russia-Africa Summit in Black Sea resort of Sochi, Russia, October 23, 2019. (Photo by Mikhail Svetlov/Getty Images)
U.S. efforts to rally international support for Ukraine in its defensive war against Russia for the most part have succeeded in Europe. But they've foundered with the United States' largest trading partner on another continent. South Africa's continued unwillingness to condemn Russia increasingly signals a broader shift away from the West.
In March 2022, days after the war's start, South Africa put its stake in the ground by abstaining from a United Nations General Assembly vote calling on Russia to pull troops out of Ukraine. It later drew the West's ire by abstaining from another resolution demanding Russia pay reparations for the destruction inflicted by the war. The African powerhouse officially claims to be neutral in the ongoing conflict, but its historic and growing cooperation with Moscow call into question its purported policy of nonalignment.
South Africa's governing party, born out of the anti-apartheid movement of the 20th century, began fostering ties with a sympathetic Soviet Union at a time when the West was considered supportive of the white minority government. The U.S. later condemned and punished South Africa's racial hierarchy with the 1986 Comprehensive Anti-Apartheid Act, eventually fostering ties with the democratic leadership in South Africa's capital of Pretoria. But Moscow had already solidified its foothold as one of the dominant foreign powers in South African politics.
Russia now boasts extensive economic, political, and military ties there. In February, approaching the first anniversary of Ukraine's invasion, the Russian, Chinese, and South African militaries held joint naval drills.